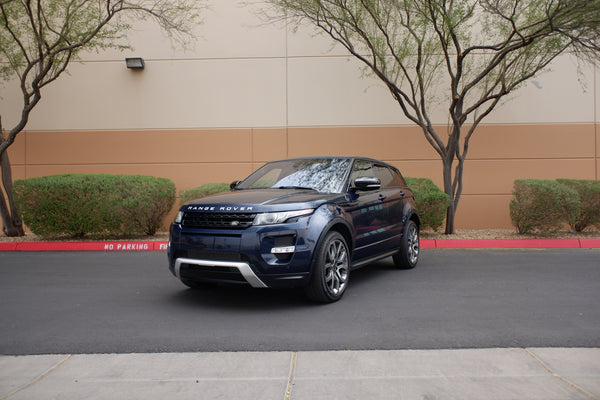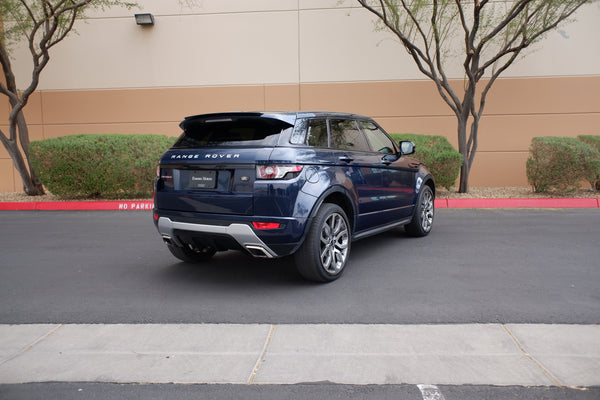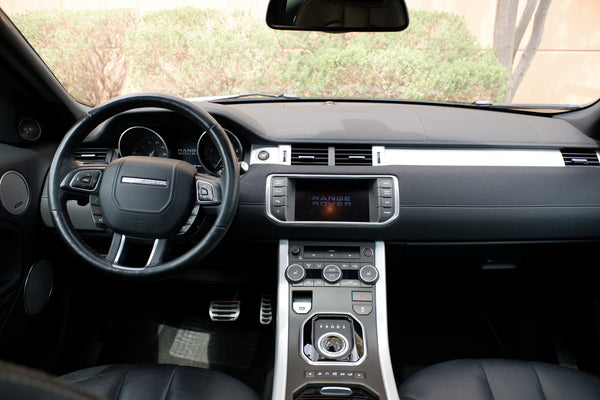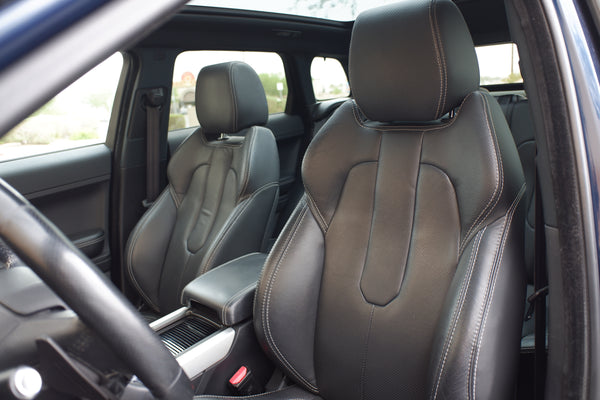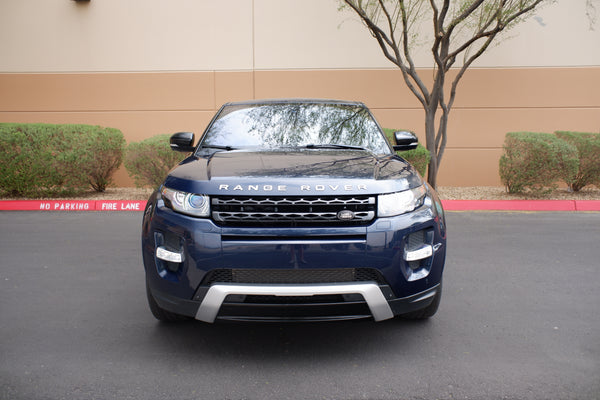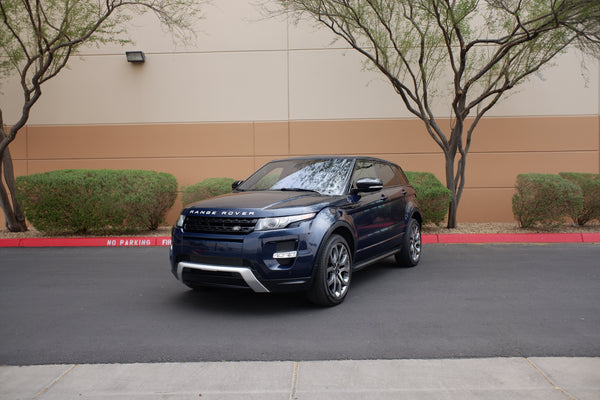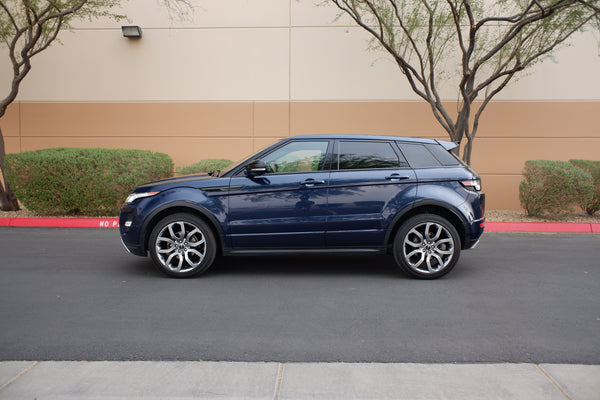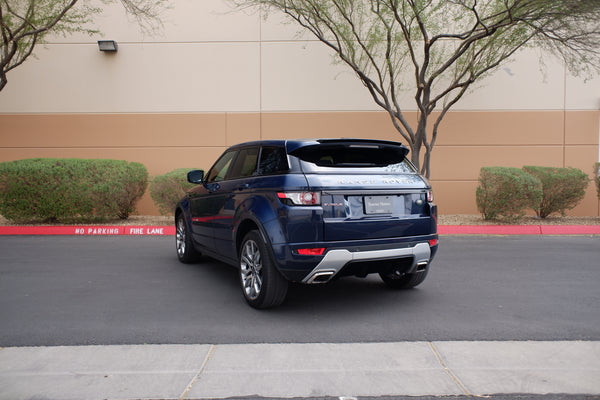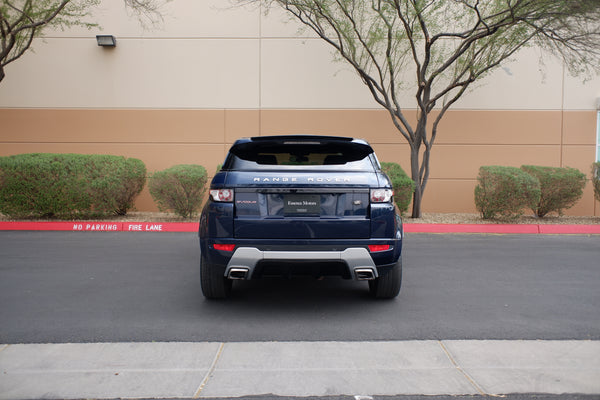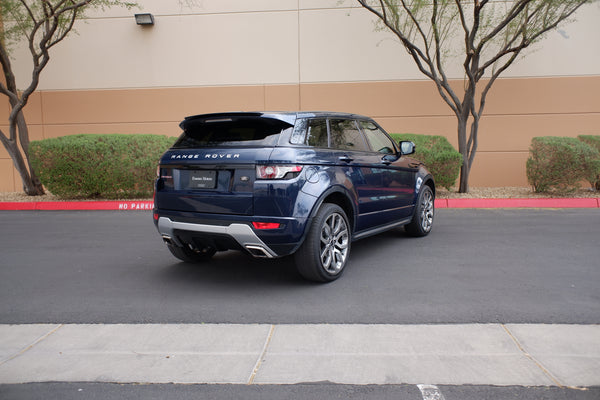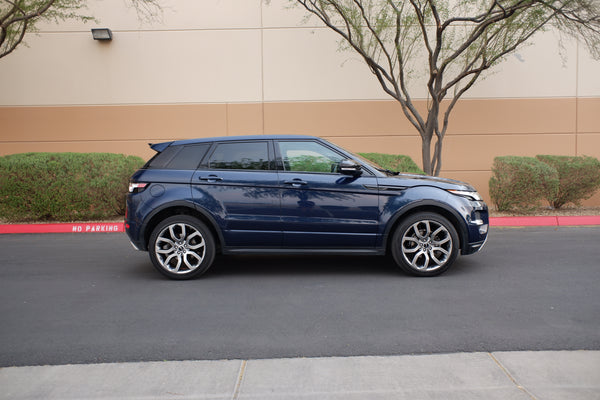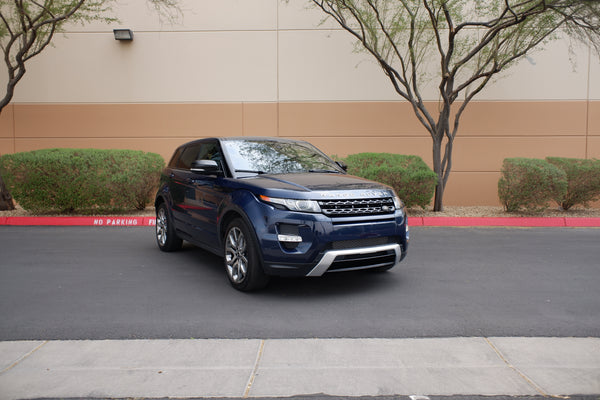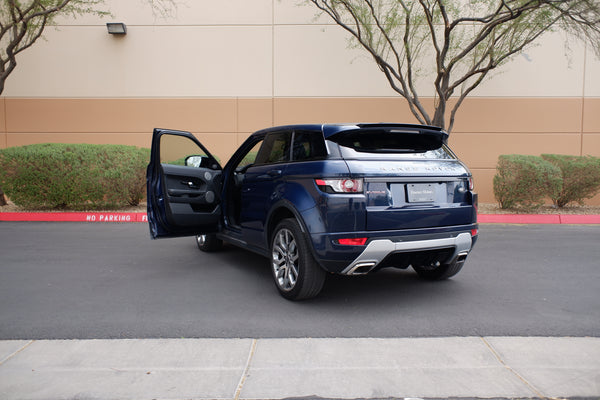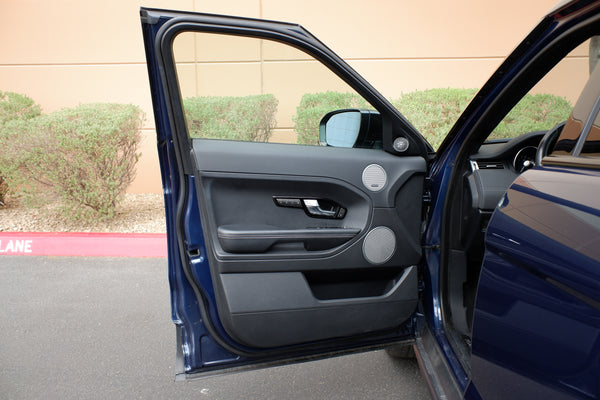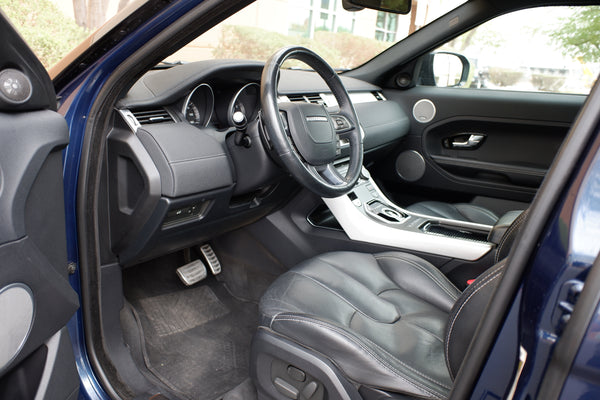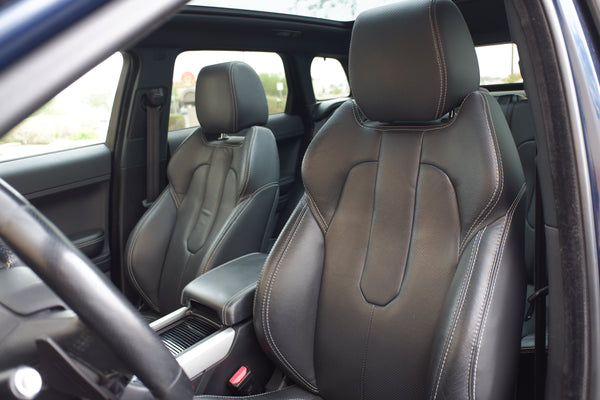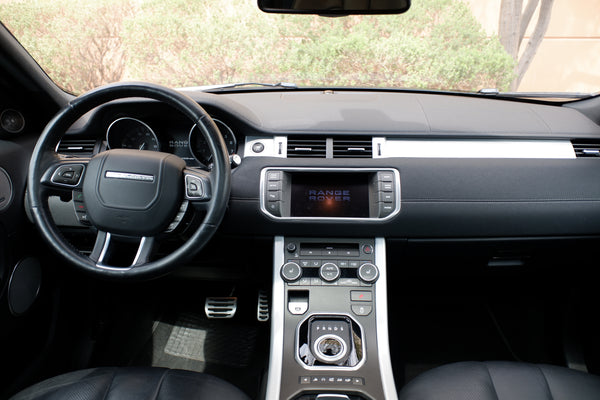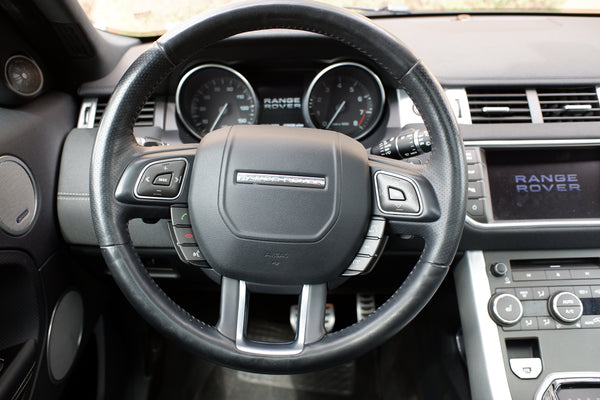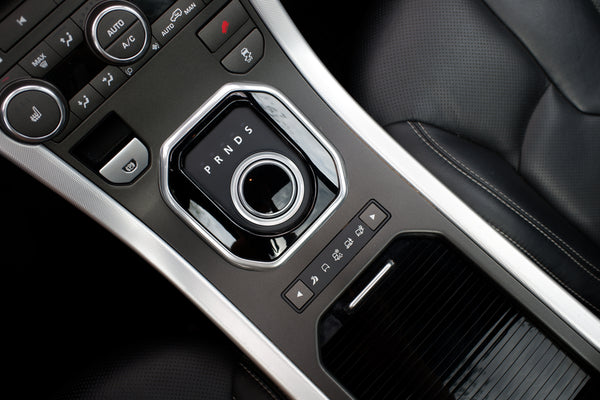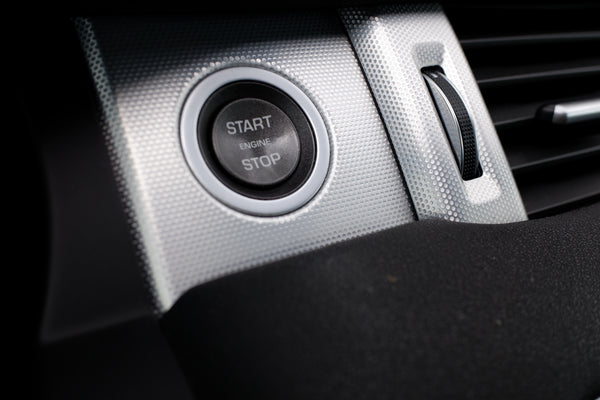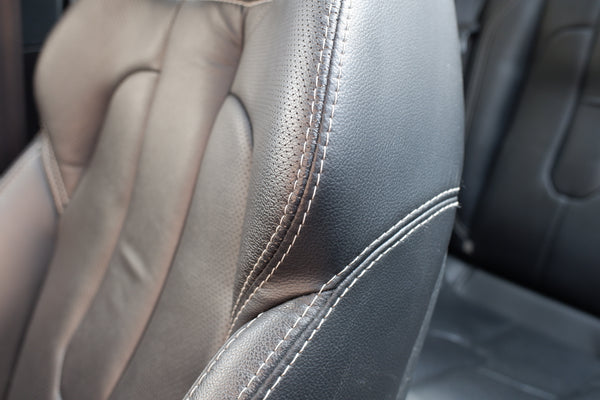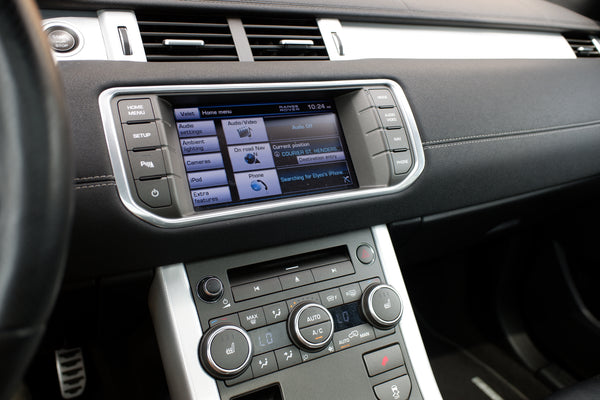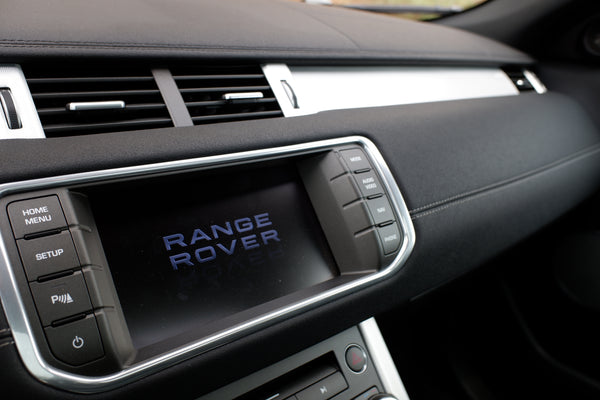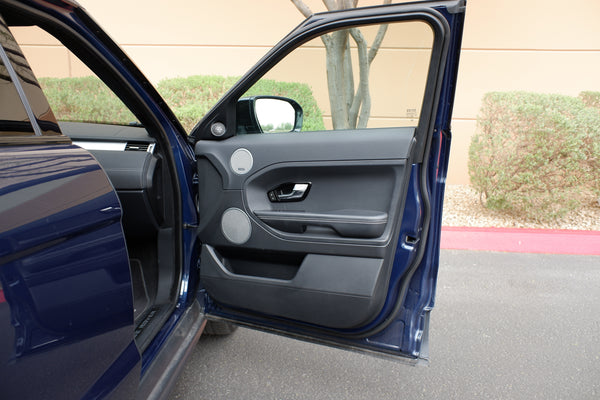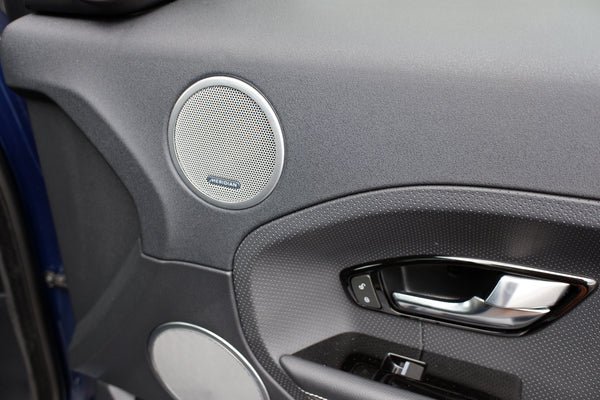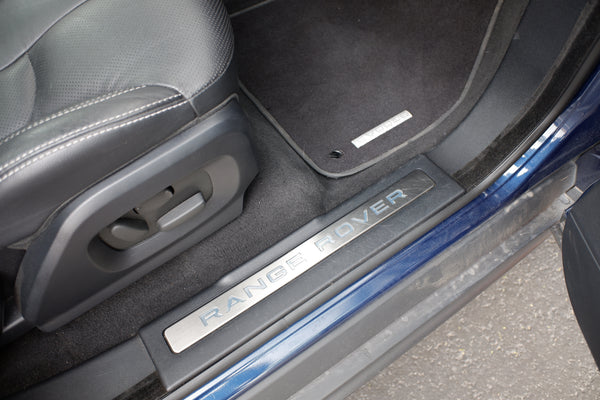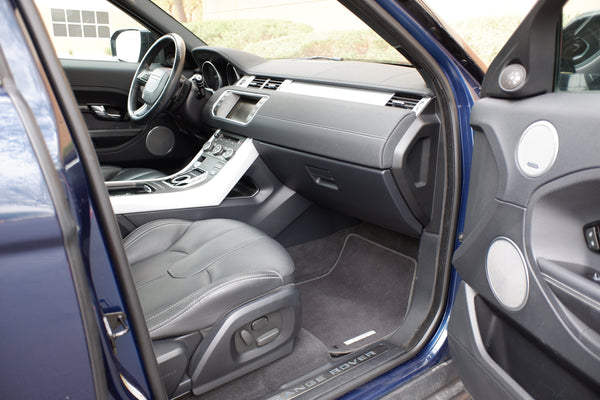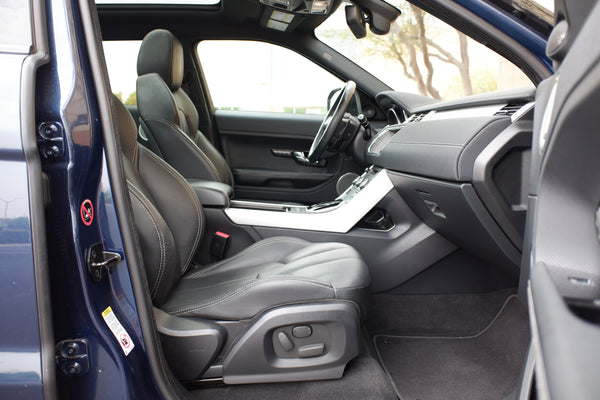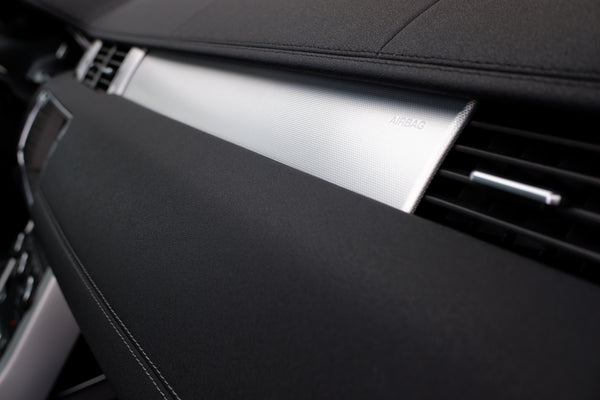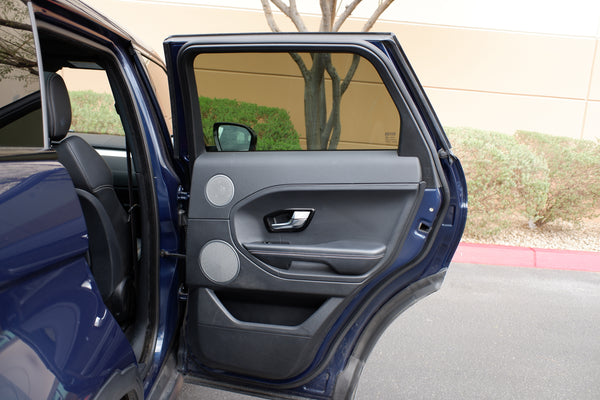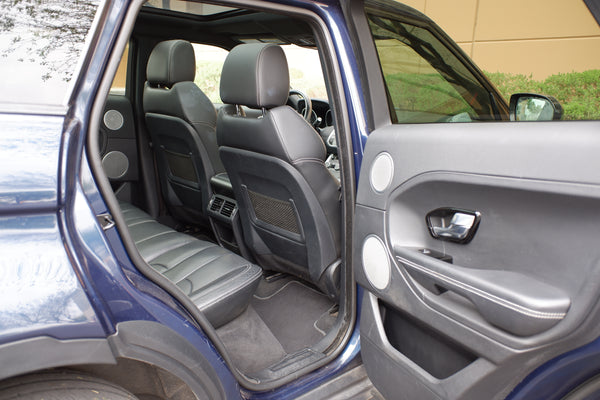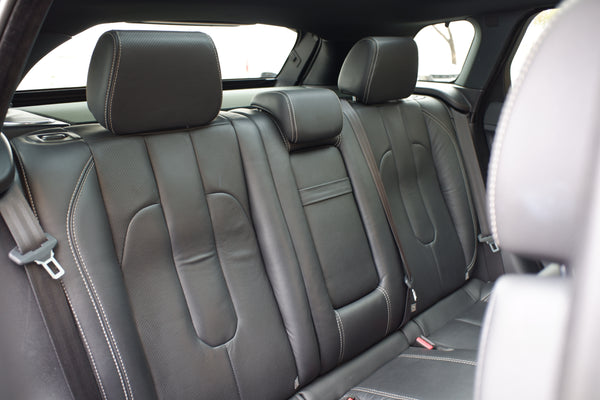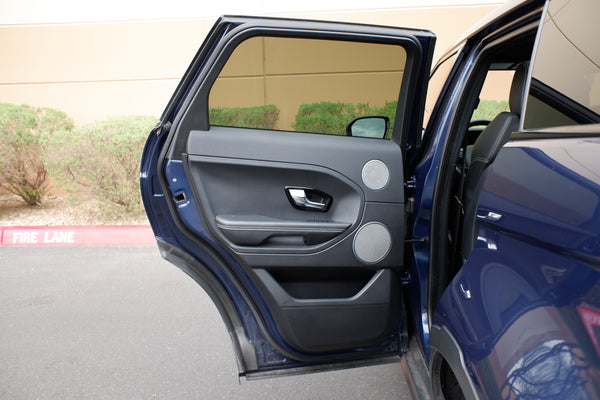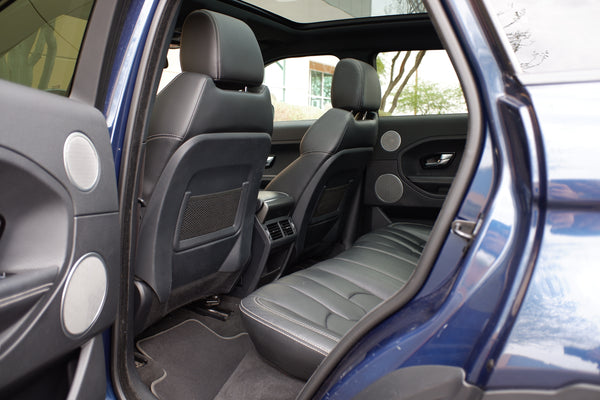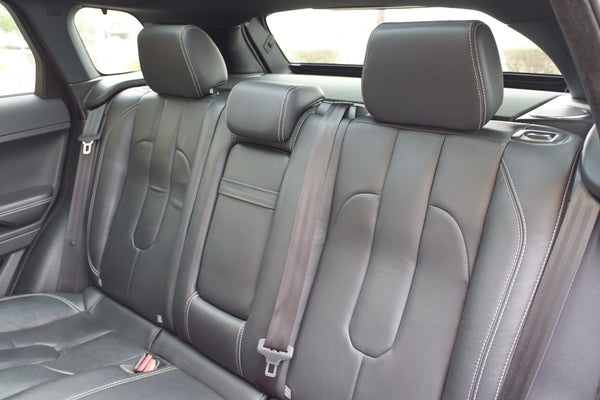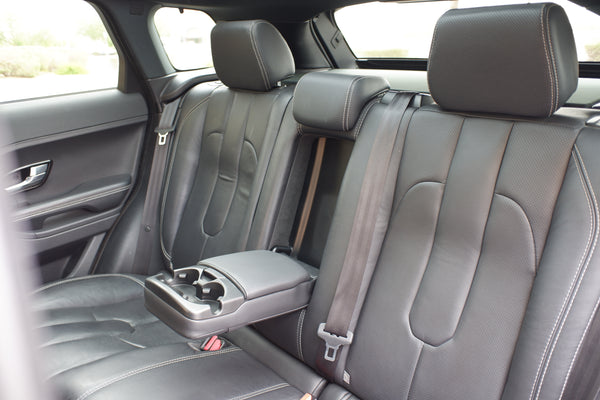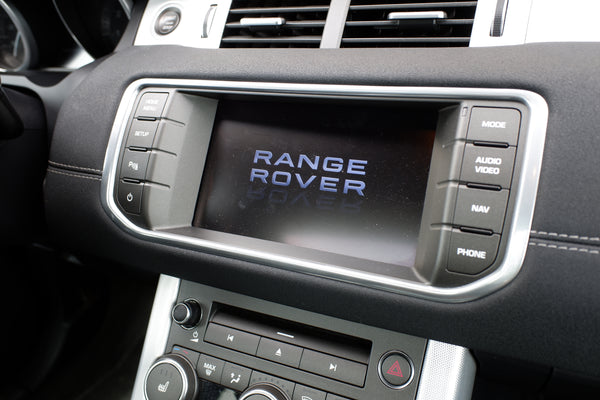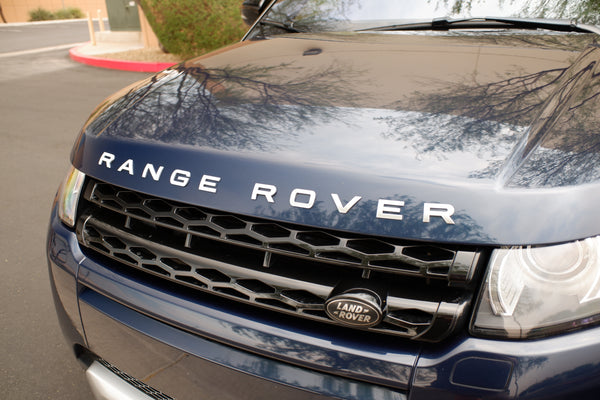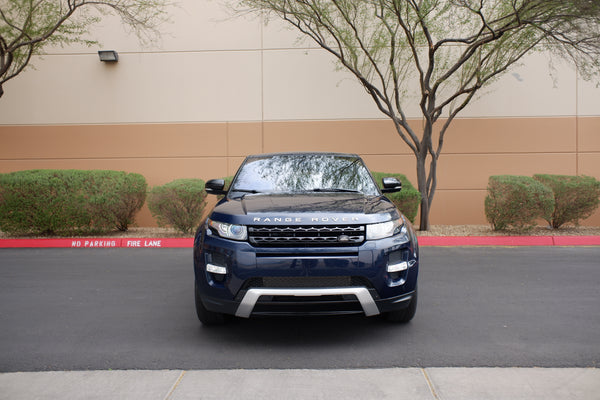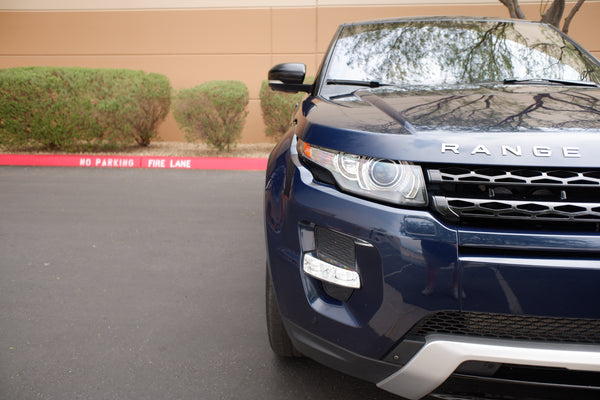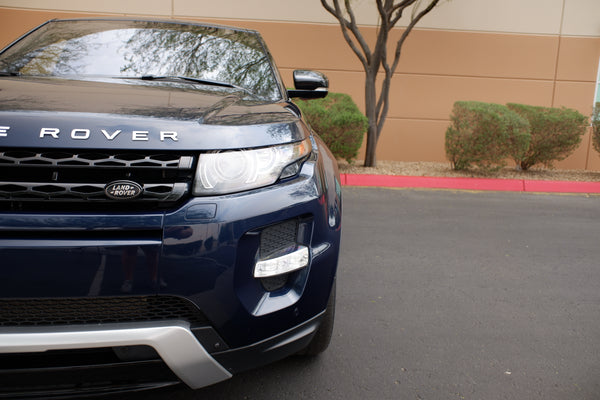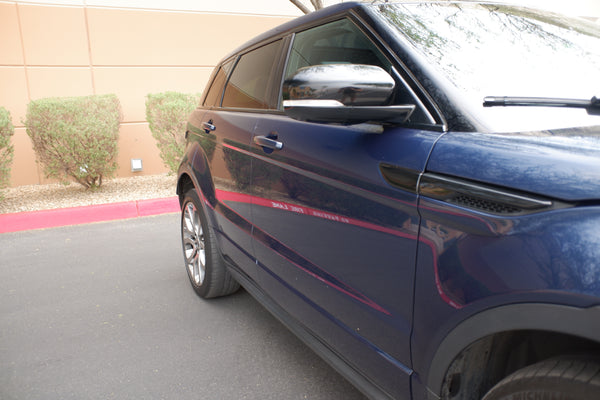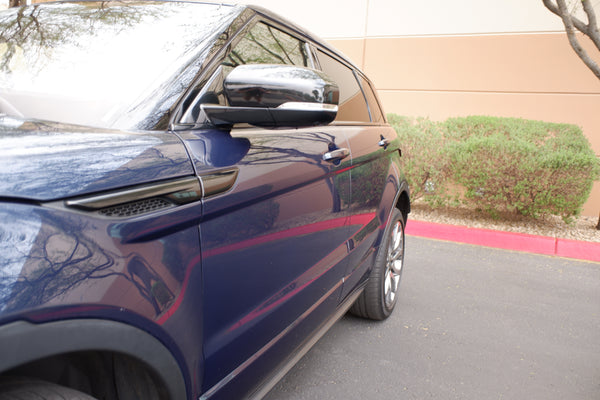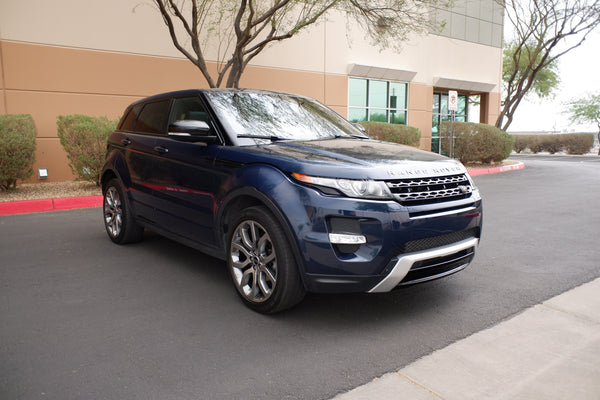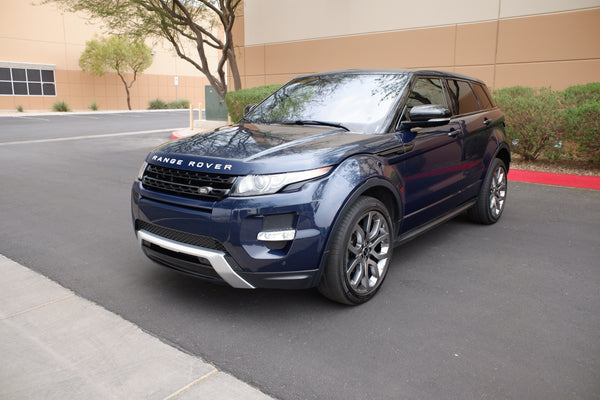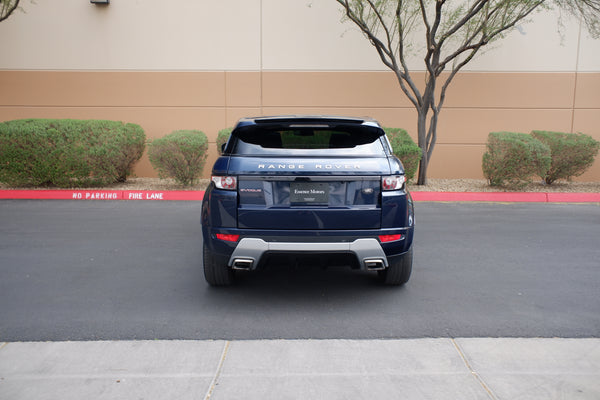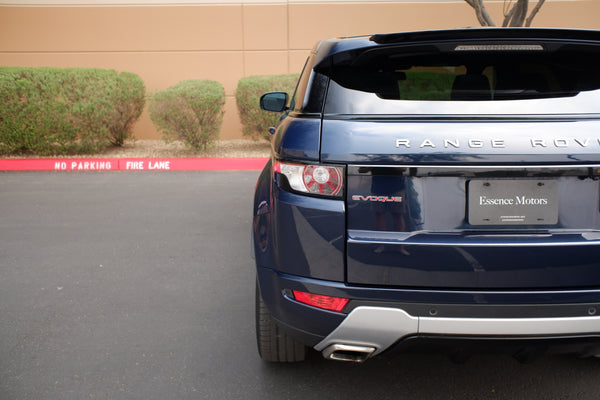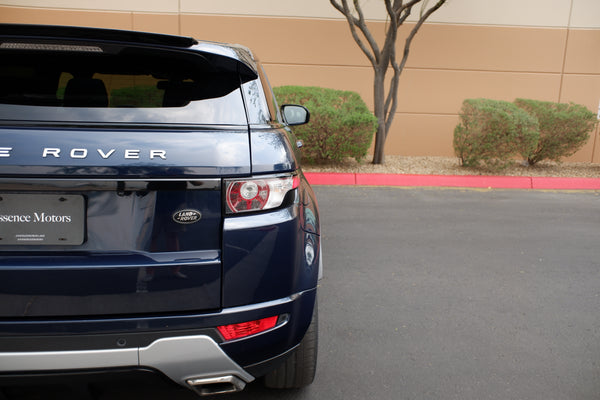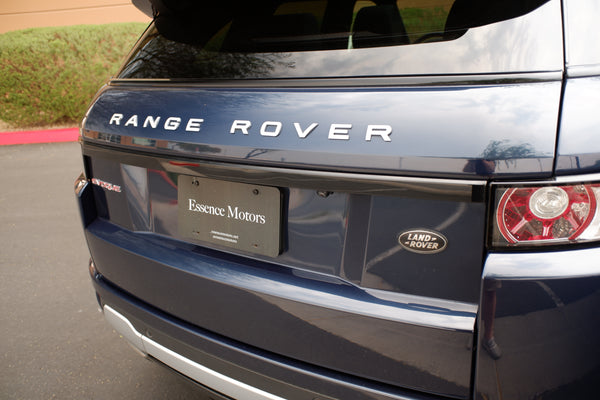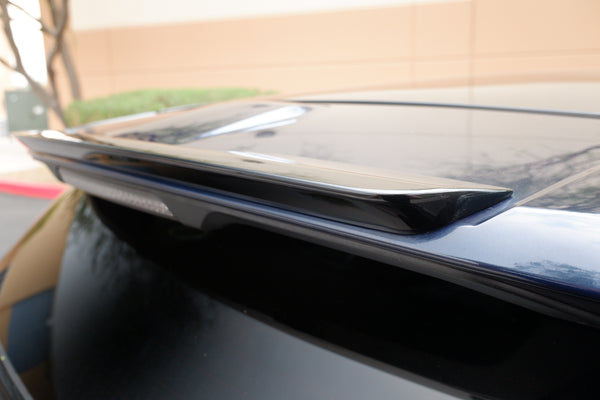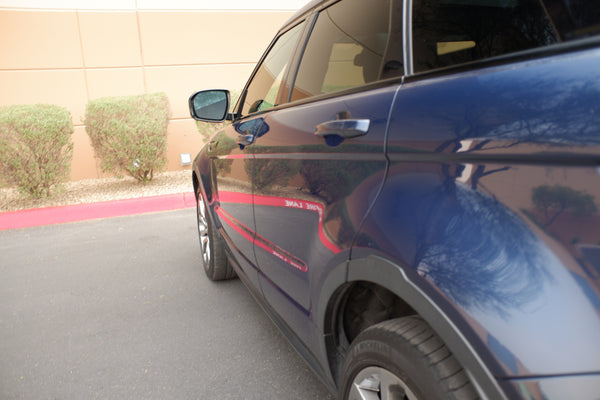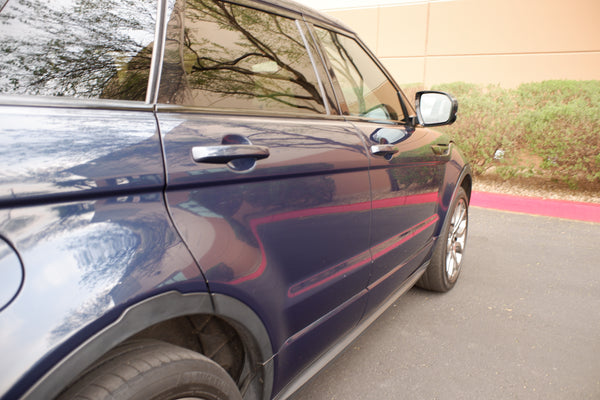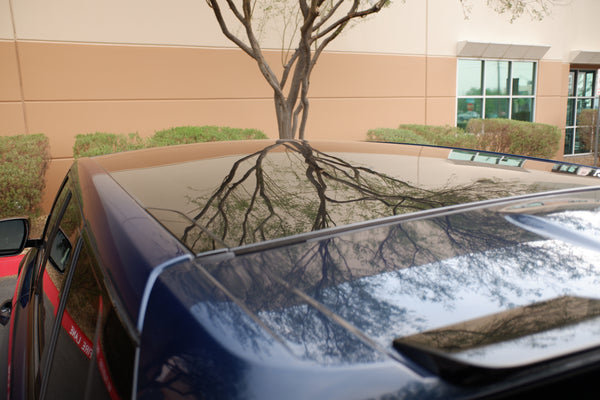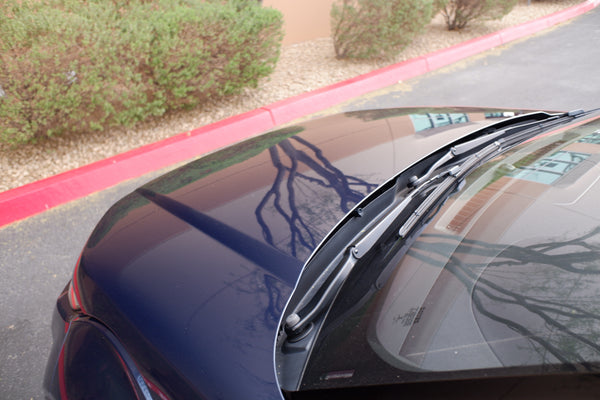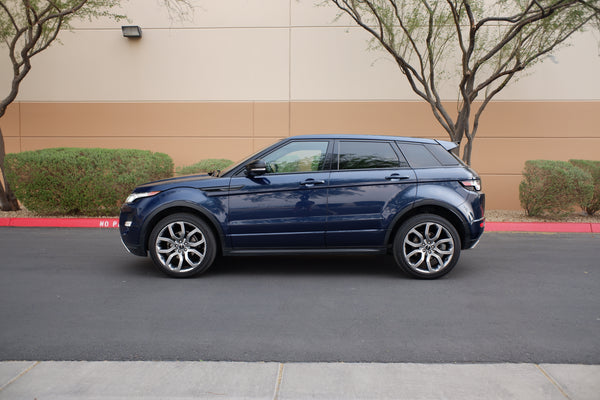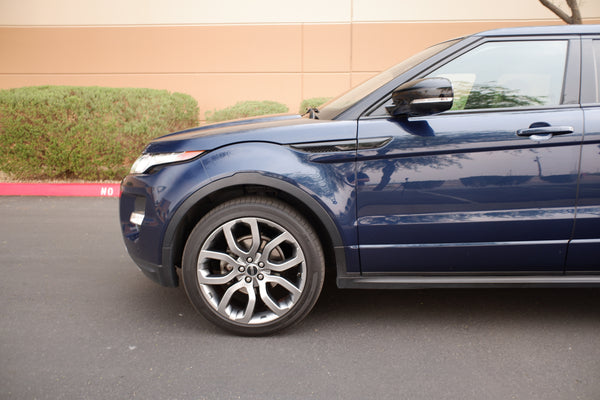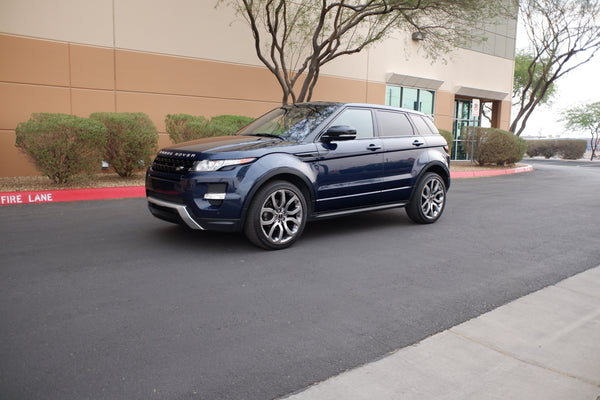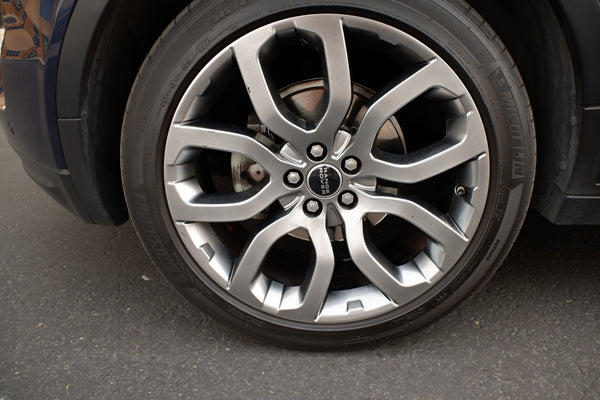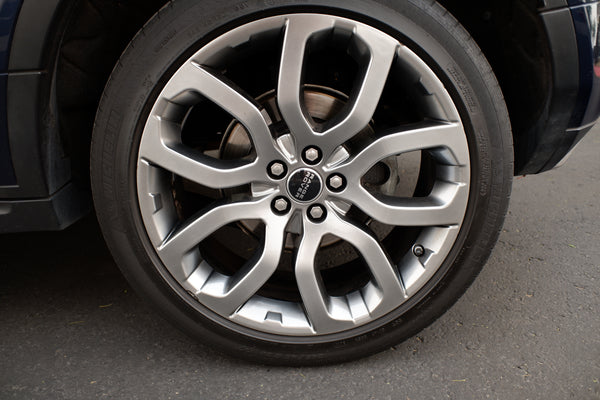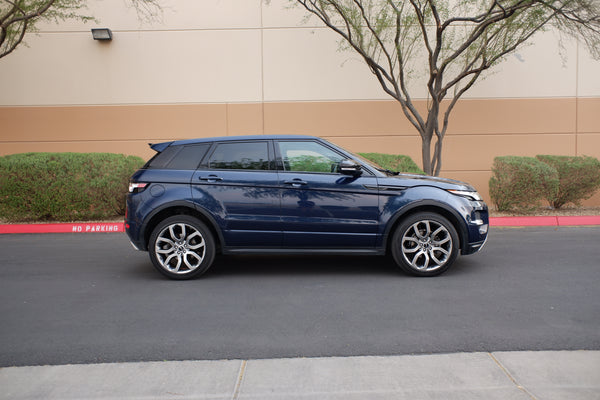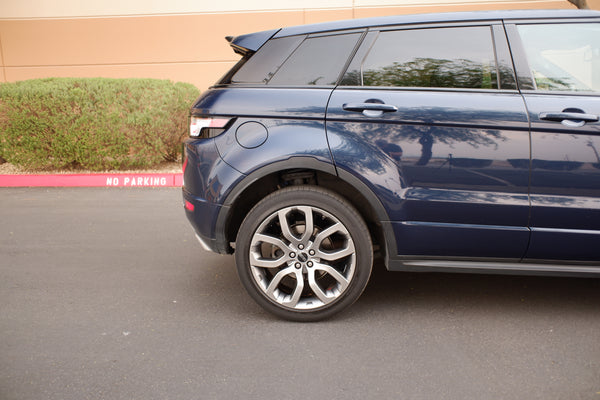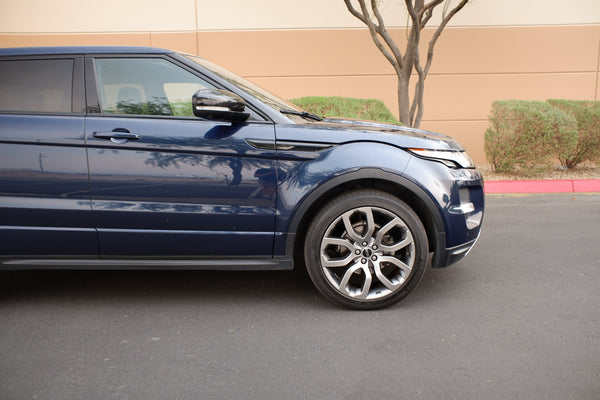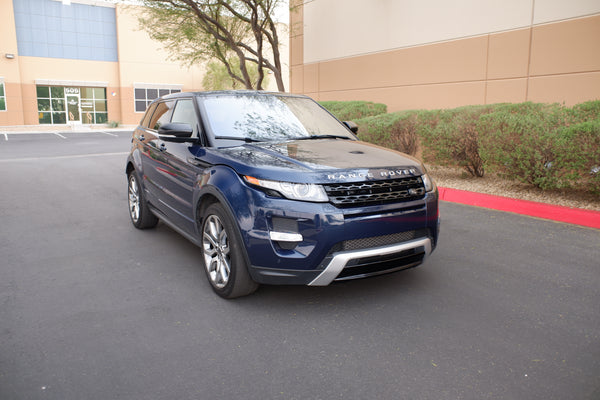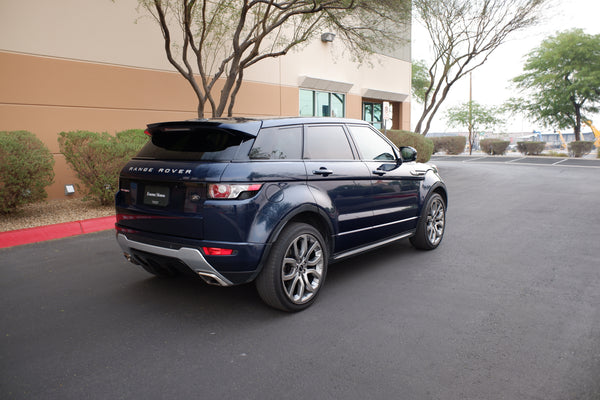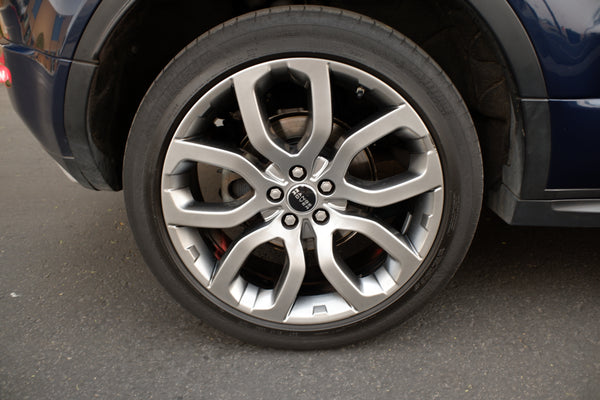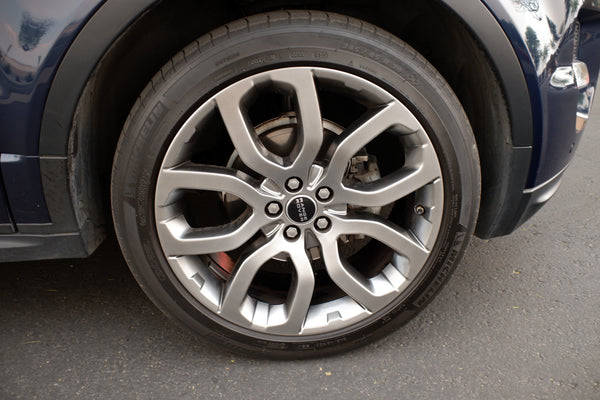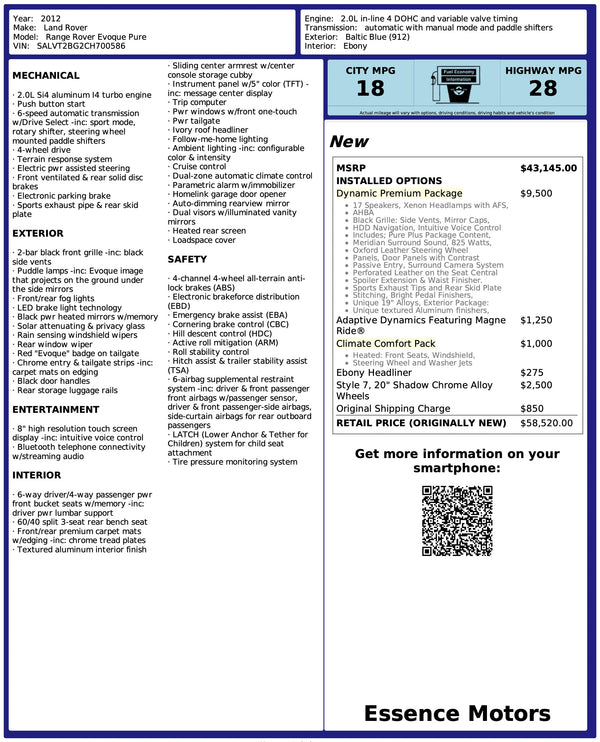 2012 Land Rover - Range Rover Evoque Dynamic - 1 Owner - Blue on Black
Make: Land Rover
Model: Range Rover Evoque - Dynamic
Year: 2012
Type: L538 Chassis
Engine: 2.0l turbocharged inline-4

Transmission: 6-Speed automatic transmission 
Mileage: 79,000 Miles
Vin: SALVT2BG2CH700586
----
Color: Baltic Blue (code RLC912)
Interior: Ebony leather upholstery (code: 034DU)
----
This beautiful One Owner Range Rover Evoque Dynamic is in excellent condition, and finished in Baltic Blue with complimenting Ebony leather interior and full panoramic sunroof. This Evoque lives up to the Range Rover nameplate with a luxurious and well appointed cabin.
The top of the line Dynamic Trim added more aggressive styling and features including factory Sport Exhaust System and Adaptive Suspension Damping. 
----
Notable Amenities include:
- Full panoramic roof with electric sunshade
- 17 speaker Meridian Sound System with bluetooth connectivity
- Cruise Control
- Passive Remote Entry
- Heated, Power-adjustable front seats with power lumbar and 3 memory
- Heated steering wheel and Heated rear seats
- Surround View back-up camera
- Ambient Lighting
A full list of options and equipment is available at the end of the listing. Window sticker is available in the photo gallery. 
----
Based on the platform from the LR2 (of which 90% has been reworked), the Evoque differs by offering a more lavish cabin and a premium brand experience. This being the face-lifted version provides better underpinnings and amenities as well as refined exterior details.
The super flared-out wheel arches look just about ready to stretch out of the car, and the classic Range Rover lettering sprawled across the hood pull your eyes towards two narrowing slits for headlamps on either side. The entire front fascia looks incredibly aggressive, and the two fog lights only add to that effect. As the old adage goes "if it isn't broken, don't fix it".

Despite a focus on comfort and style, the Evoque hasn't forgotten about its off-roading roots. To that effect, the car comes loaded with Land Rover's Terrain Response system as well as Active Driveline 4WD. The latter of which assists in keeping fuel economy in check by decoupling 4WD until it detects slip – at which point the system can re-engage 4WD in 300 milliseconds. Terrain Response on the other hand adjusts the throttle input, power distribution, and suspension settings.
----
We offer low shipping rates nationwide. Ask us about our financing options.
Call or text us at 702 969-1910 with any questions.
----
Interior Trim Combinations - Ebony Perf lthr sts Ebony [TIS];
Emission Directives - ULEV2 [053BS];
Door Locking - Operation - Central Door Locking [076ES];
Voice Input System - Voice Input / Recognition System [025EZ];
Steel / Alloy Options - "20"" Alloy Style 7 (G)" [029QF];
Steering Wheel Heating - Steering Wheel Heating [032DV];
Transmission Type - Paddle Shift [078BR];
Exterior Features - Sensor Occupant Classification (Nas) [030NX];
Fixed Rear Camera - Surround Camera System [086GC];
Drop in Mats (Front) -
Front Floor Carpet Mats [079AJ];
4WD - 4WD [109AA];
Air Bag Labels - English/French Air Bag Labels [096AJ];
Sunroof Blind - Sunroof Blind [019BA];
Terrtorial Labels - USA Labels [096BE];
Seat Features - Power Seats Driver 6 Way Adjust [033HC];
Centre Console Inserts - Black Applique [089AF];
Facia Console - PVC facia [088GV];
Exterior Features - Auto High Beam Assist [030NT];
Centre Console - Material / Finish - Console Lid Leather [088EM];
Console Mounted Switches - Terrain Optimisation Switch [088CP];
L538 Trim Packs - Dynamic - Nas [350GG];
Power Train & Drive - Magnetic Damping System [027CY];
Rear Headphone Module - Rear Headphone Module Blank [025EW];
Navigation System - Navigation System [087AA];
RR Bumper Sump Guard - RR Bumper Guard - Silver [080ZH];
Spare Wheel - Underfloor - Spare wheel 18 Steel [029NZ];
Engine Torque/Power Rating - Engine Power Standard [152AH];
Rear Treadstrips - RR DR Treadstrips - Chrome [048BI];
Roof Conversion - Roof conv - Panoramic Roof [041CX];
Screen Heating - Heated Windscreen [040AK];
Bodystyle Moulding Inserts - Bodyside moulding - No insert [080XA];
Door Casing Material - Pvc/Leather Door Trim Panel [080NB];
Bumpers - Frt Bumper - Sport [080DS];
Exterior Vents - Power Vents Fr Fender -Black [080DQ];
Body Coloured Sills - Sport Sill [080DH];
Cruise Control - Cruise Control [065AB];
Seat Lumbar Adjustment - Lumbar Adjust PWR Driver & Passenger [033CO];
Television Receiver - No TV Receiver [129ZZ];
Fuel Economy Packages - Less Base Pack [074NA];
Proximity Mirrors - Proximity Mirror Camera [031CU];
Paint Colours - Baltic Blue [912];
Hill Descent Control - Hill Descent Control [020AR];
Seats - Headrestraints - Rear Centre Head Restraint [033DB];
Seat Packs Combined - Pwr sts Drv mem lum 6X4 [033KC];
Front Foglamps - front fog lamps [064AP];
Front Treadstrips - FT DR Treadstrips - Illuminated [048BD];
Literature Packs - NAS Literature Pack [002BQ];
Navigation Systems - Colour Nav. System NAS [025FC];
Suspension - Rear Spring Load - Rear Spring Load - Class G [027GG];
Headlamp control - Auto Headlamp on/off [064HI];
Fog Lamp aperture - Fog Lamp with Bezel [064GA];
Finishing Front End - Black Grille [064EG];
Interior Light Package - Ambience Lighting [064EC];
Wood Trim - Sports metal [088GR];
Approach Lamps - Integrated Approach Lamps [064DD];
Headlamp Cleaners - Headlamp power wash [064BV];
1/2 Model Year - 12MY Job 2 [001ZZ];
Digital Radio Receiver - Analogue Radio Reception [025KO];
Heated Windscreen Washer Jets - Heated Front Washer Jets (Windscreen) [040AQ];
Steering Column Lock - Less Steering Column Lock [049ZZ];
Ext Tailgate Finisher - Tailgate finisher - Black [057ZD];
Provision for Luggage Retention - Load Retainer luggage rails [135AH];
Product Name Badges - Rear - Evoque Badge Red [057GS];
Headlamps - Adaptive Headlights BiXenon [064DI];
Equipment Stowage - Standard Tools [056AX];
A/V Power Sockets - A/V Jack + USB [054AE];
Heater Unit Operation - Fresh Air Heater - No sup heater [043AY];
Foot Pedals - Foot Pedal - Metal Finish [051AJ];
Roof Spoiler - Roof Spoiler - Black [060AZ];
Suspension - Rear stabiliser Load - Rear Stabilser Bar Load - Class A [027HA];
Derivative Badges - Less Badge [057EV];
Tyre Inflation System - LESS Instant Mobility System [029FK];
Pollution Sensor - Pollution Sensor [067BN];
Drive Hands - LHD [252SF];
Park Distance Control Sensor Front - Park Distance Control Sensor Front [086EG];
Land Rover Model Year Indicators - 2012 Model Year [001BS];
Painted Roof - Body Colour Roof [080AC];
Passenger Seats - Power Seats Passenger 4 Way Adjust [033HD];
Heated Rear Windscreen - Heated Rear Windscreen [040AI];
Wheel Nuts - Del Locking Wheel Nuts [055AF];
Frt Bumper Sump guard - Frt Bumper Guard -Silver [080ZF];
Exhaust Systems - Twin Downpipe - Square tailpipe [037AT];
Style Packs - Body Styling kit - Sport [036KV];
Seat Colour Combination - Ebony / Ebony [034DU];
Stop/Start Systems - Standard Electric Starter Motor [040AV];
Wheel & Tyre Configurations - Tyres Michelin [029CK];
Seat Material - Lthr Perferated seats [033JE];
Door Armrest - Leather Door Armrest [033IG];
Power Unit Series - 2.0L Si4 Petrol [200AS];
Locking Radio Frequency - 315 MHZ frequency [076DG];
Windscreen Glass - Climate Control Windscreen [047AP];
Door Waist Rails - Waist Rail finisher - Black [057ZE];
Horn Types - Twin Tone Horn [076CW];
Perimetric Protection - Perimetric Protection [076DA];
Headlining - Ebony Headlining [032BU];
In Car Entertainment / Speakers - Premium Audio [025LN];
Seat Trim Level - Seat Type - Standard [033CM];
Rear Centre Armrest - Armrest - Rear Centre Folding [033FJ];
Front Seat Adjustment - Electric front seat adj. with Drv memory [033CT];
Steering Wheel Styles - Sports Steering Wheel [032DW];
Seat Heating - Heated Seats- Driver and Passenger's [033BV]; Transmission - Automatic 6 Speed [078BQ];
Twin Sun Visor - Twin Sunvisors Vanity Mirrors Illuminate [031CE];
Keyless Start / Entry - Passive Entry/Push Button Start [066AC];
Suspension - Front Spring Load - Front spring load -Class A [027FA];
Mirror Parking - Dual Power/Htd/Power Fold/Memory [030NM];
Rain Sensor - Front Rain Sensor - Windscreen Mounted [030CQ];
Body Coloured Mirrors - Ext Mirror Finish - Black [030BV];
Front Touch Screen Displays - HLDF Screen [087AL];
Headlamp Illumination - USA Headlamps - S/B RHD NO PLT [064BZ];
Tailgate - Powered Tailgate [070AV];
Vehicle Information Control System - Traffic Message Channel (TMC) [087AG];
Centre Console Features - Console - Rear vents [088AL];
Interior Mirrors - Electro Chromic Interior Mirror [031CG];
Tyre Pressure Monitor - Tyre Pressure Monitoring System [062AD];
Facia Contrast Colours - Ebony Black / Ebony Black - IP Facia [038CD];
Vehicle Communication - Bluetooth -Audio Stream [025MB];
Rear Seat Trays - No RR seat tray configuration [033XB];
Rear Seat Configuration - 60/40 split folding rear seat [033EC];
Steering Column Lock - Steering Rack -Uprated [049AX];
Glass - Privacy Glass Dark Tinted [047AB];
Gear Knobs - Rotary Gear shift knob [117AH];
Paint Bands - Metallic Paint [024AZ];
Air Conditioning - ATC Air Conditioning [022AX];
Home Link - Garage Door Opener NAS [025FF];
Rear Screen - No Rear Seat Entertainment [129XX];
Body Types - 5 Door Estate [099AA];
Instrument Packs - MPH/KPH Speedometer - NAS [038BH];
Navigation Mapping - Navigation Mapping - Nas [087XB];
Bonnet Inserts - Less Bonnet Inserts [080ZA];
Battery Back-Up - Security sounder - No BBUS [076ER];
Day Time Running Lights - Daytime running lamps [064BU];
Technology Packs - Tech Pack Dynamic/Prestige - Nas [074KT];
Cold Climate Pack - Climate convenience Pack [072AZ];
Blind Spot Information systems - No Blindspot information system [086ZZ];
Parking Assist - No Parking Assist [086YY]