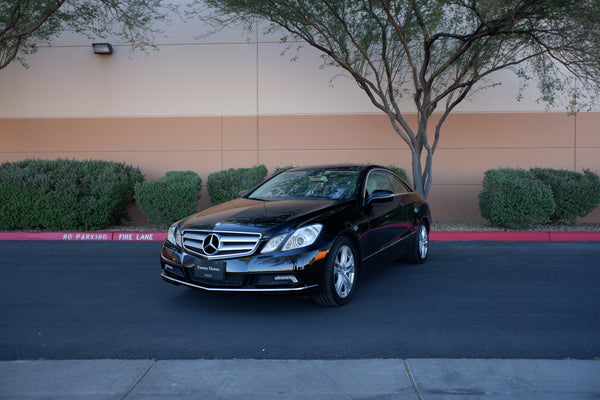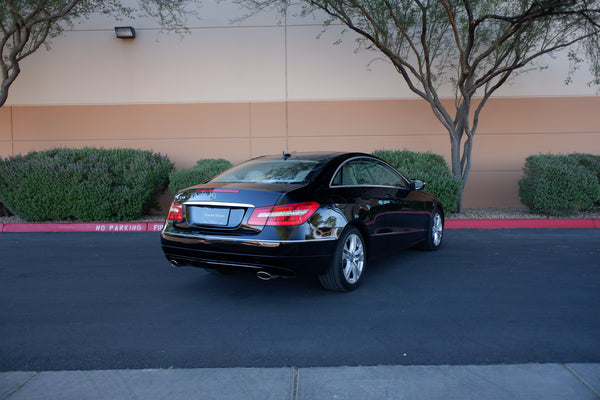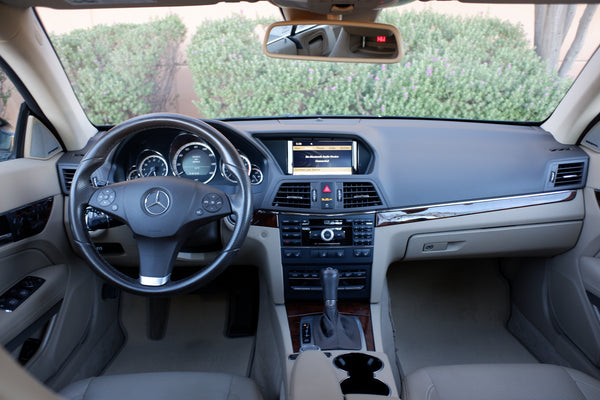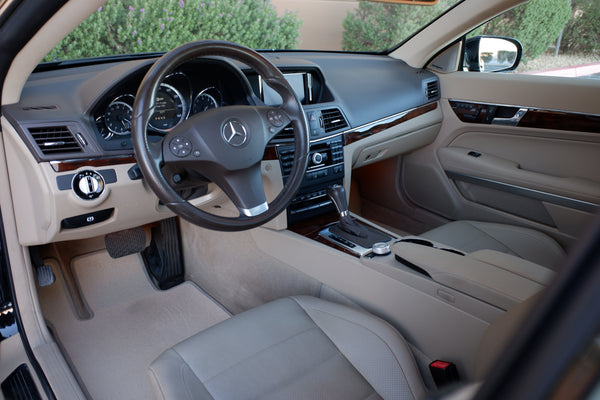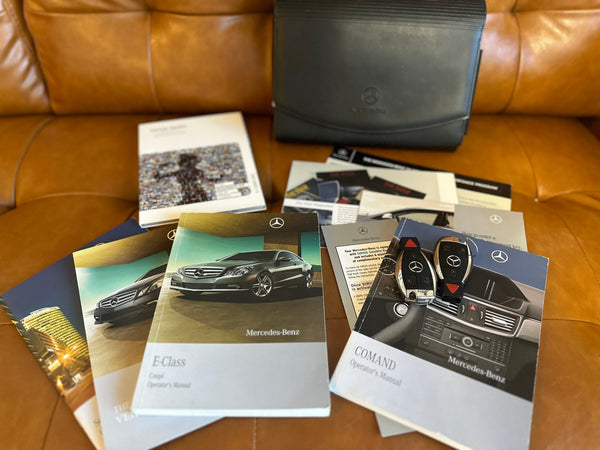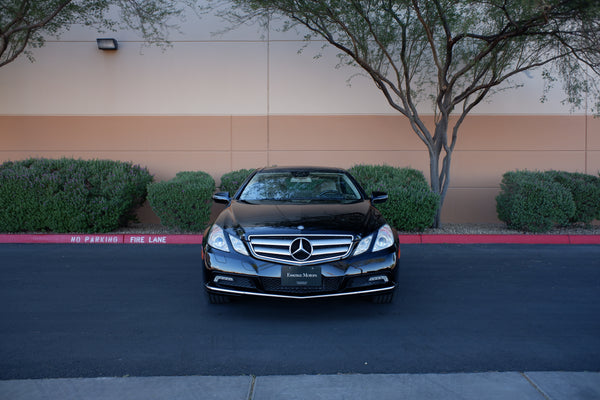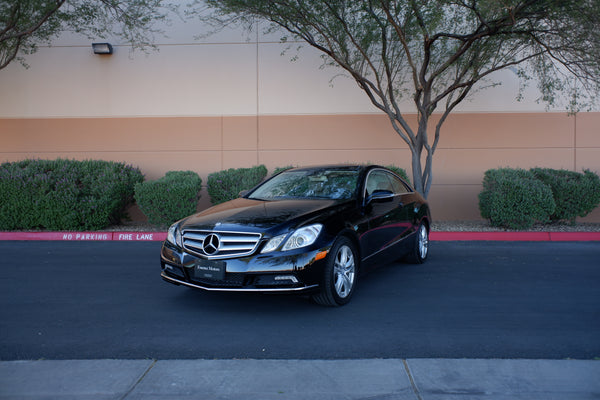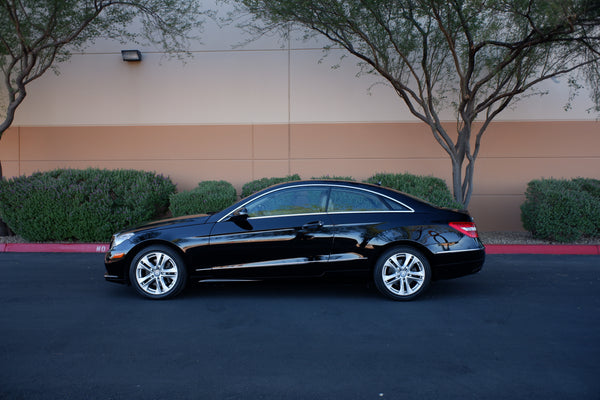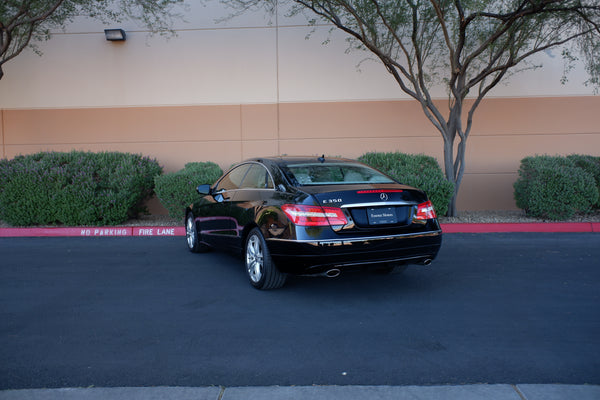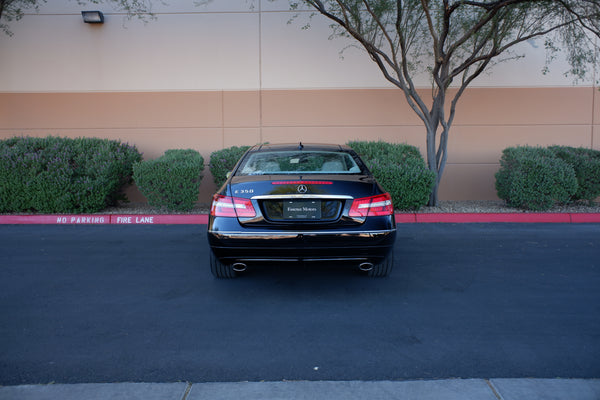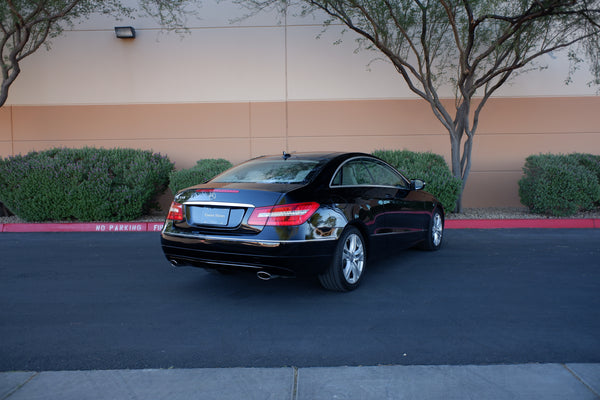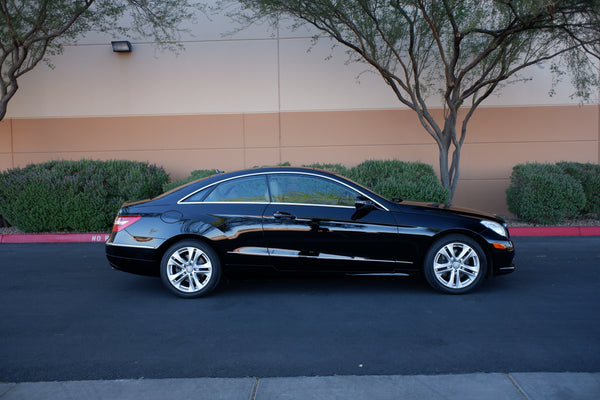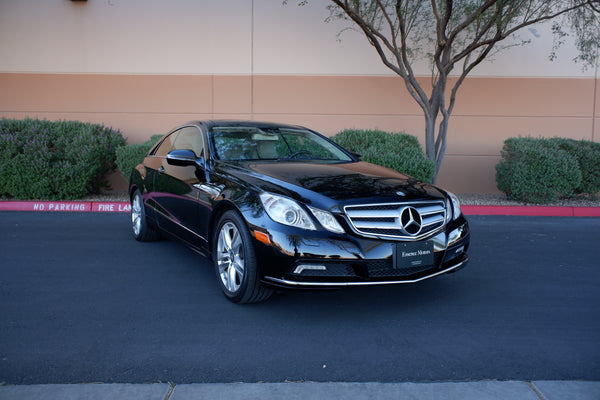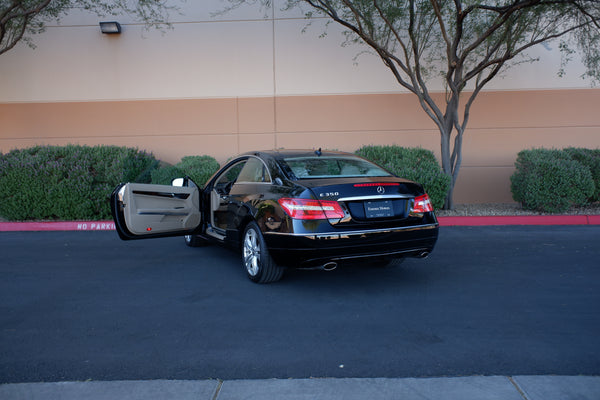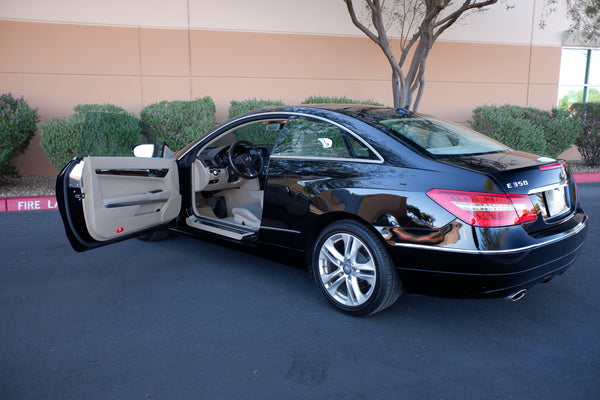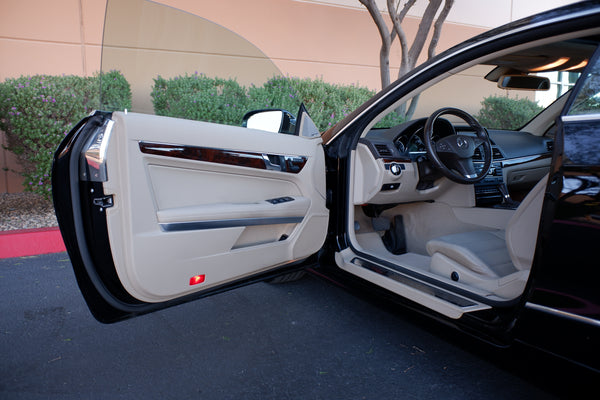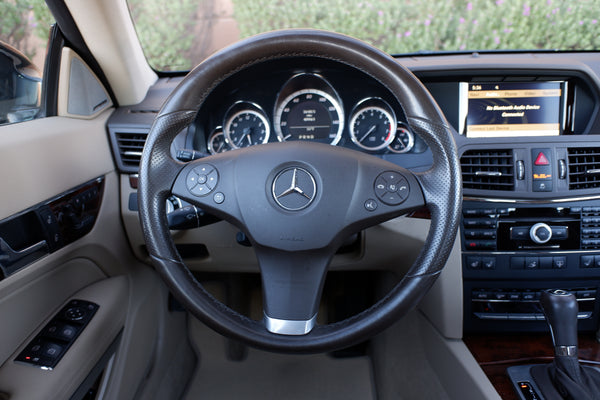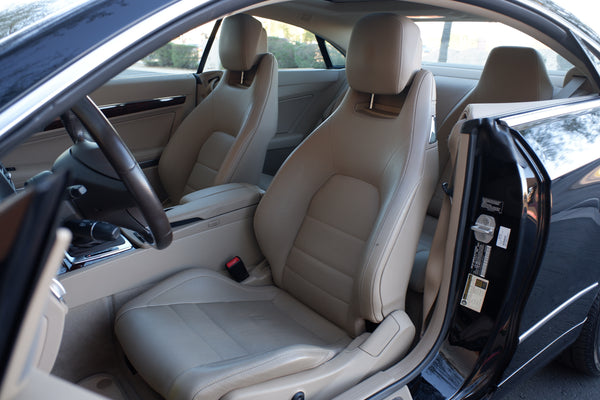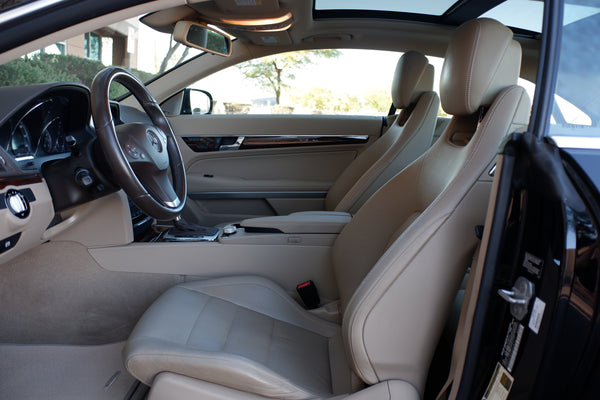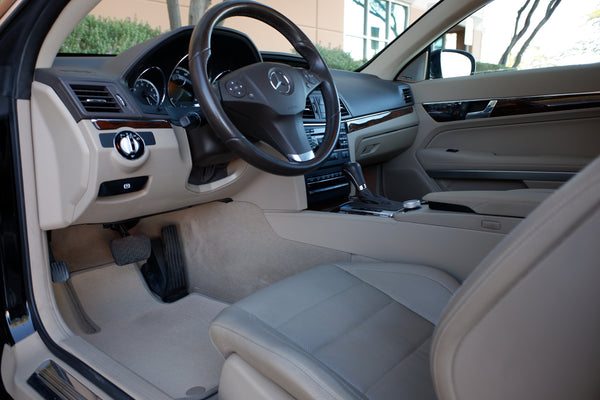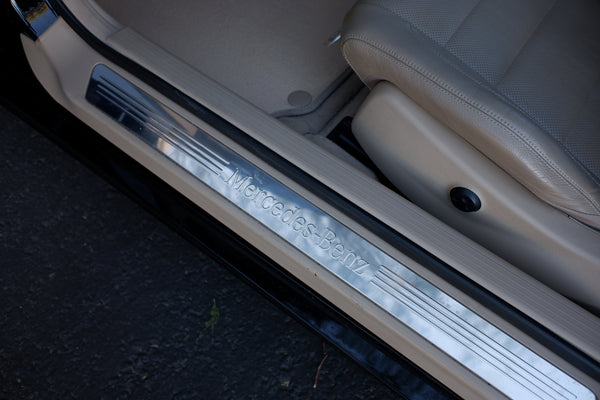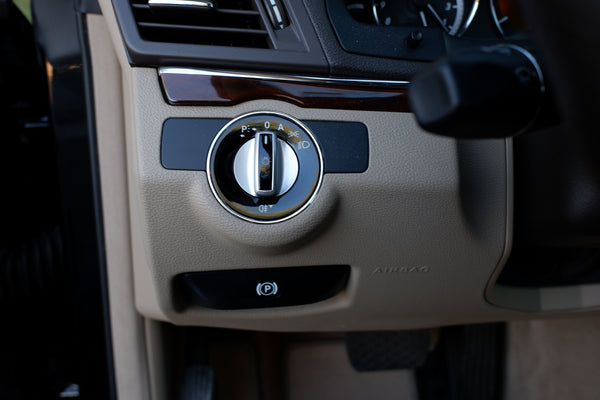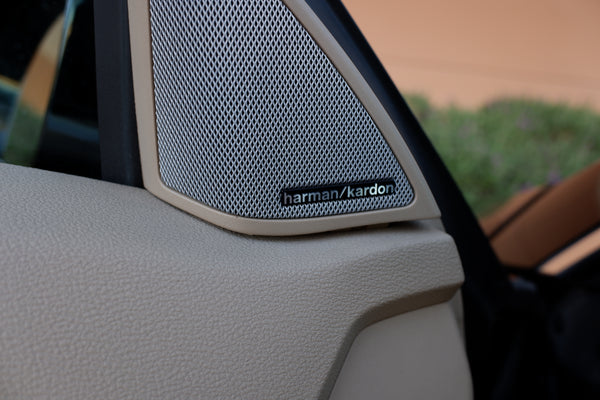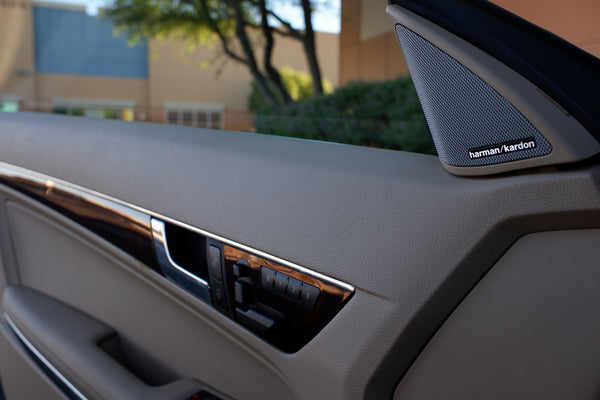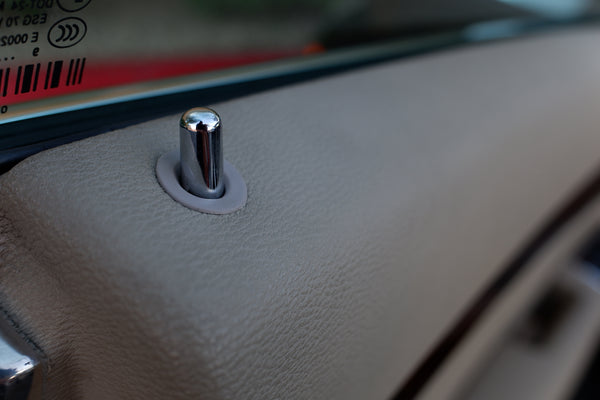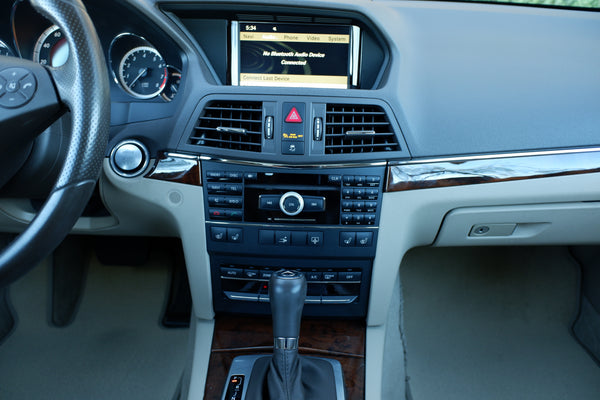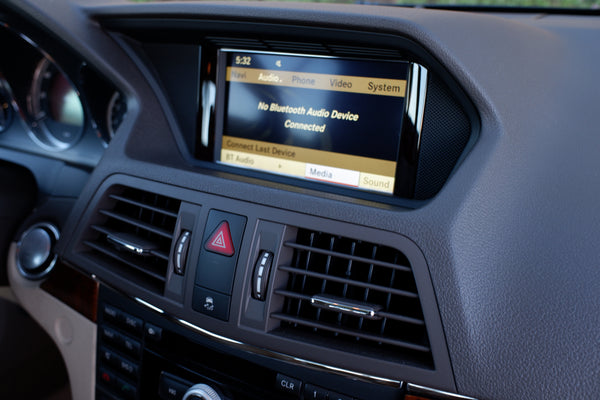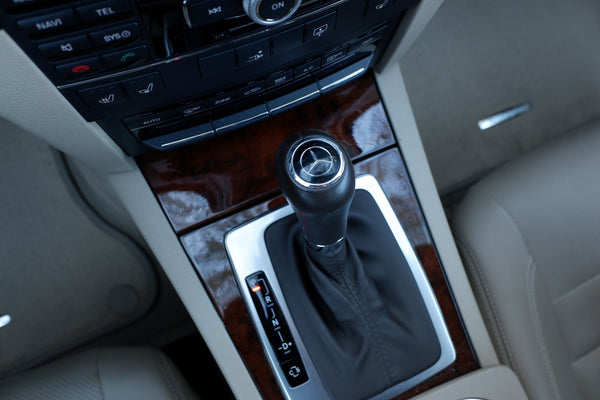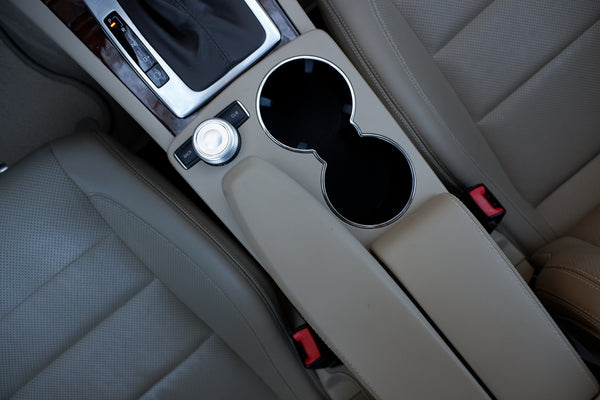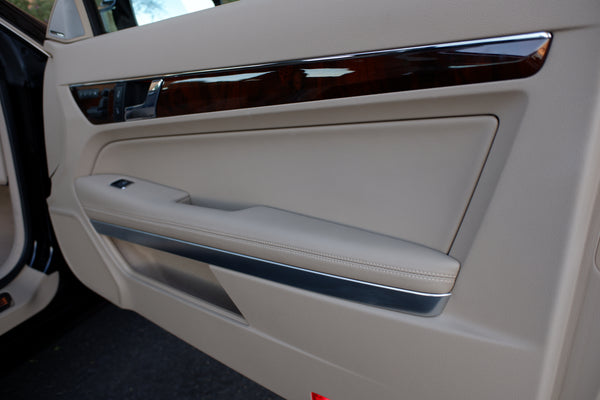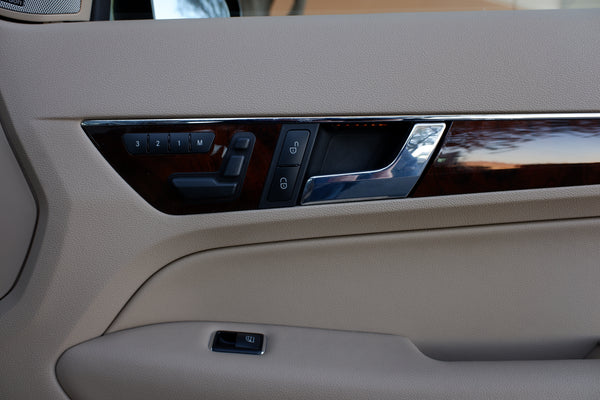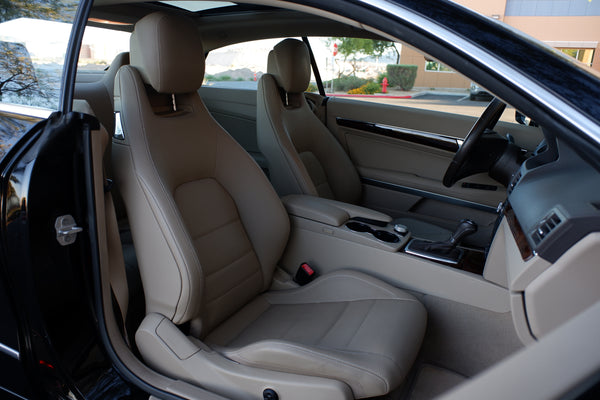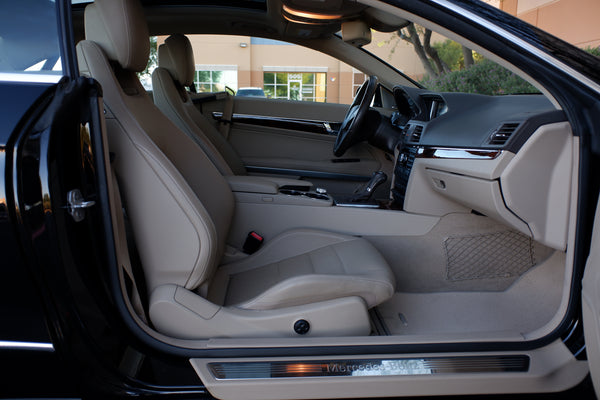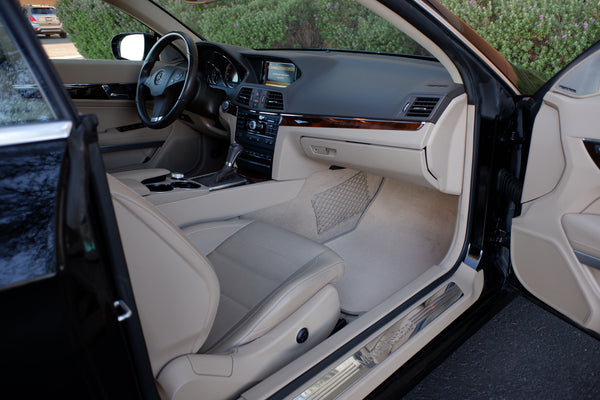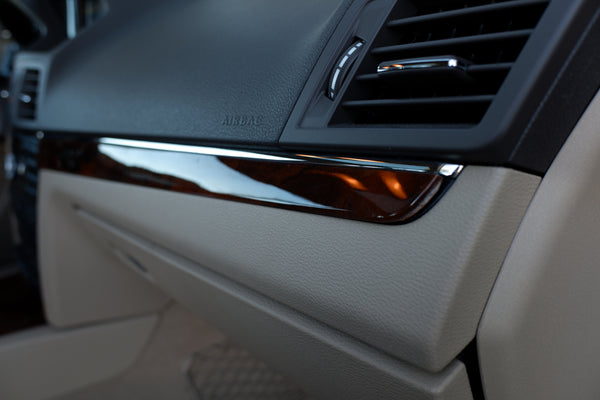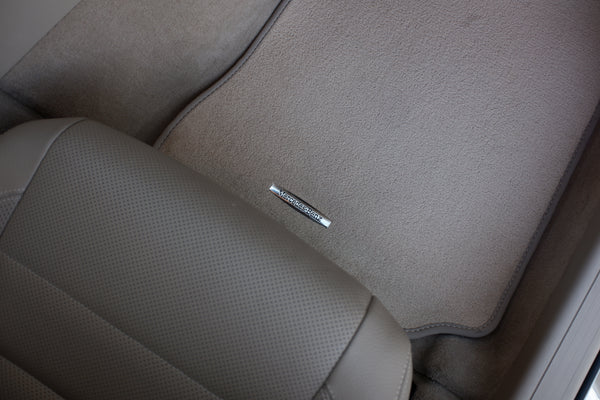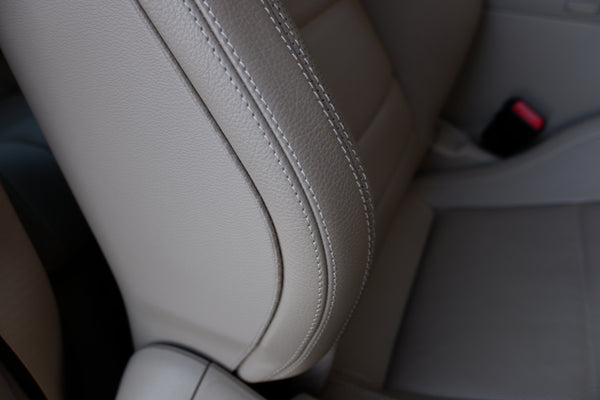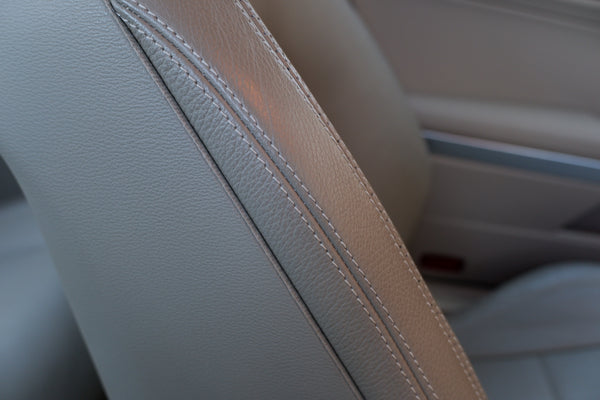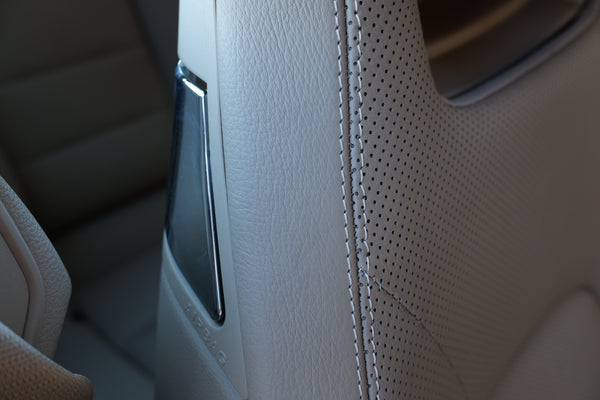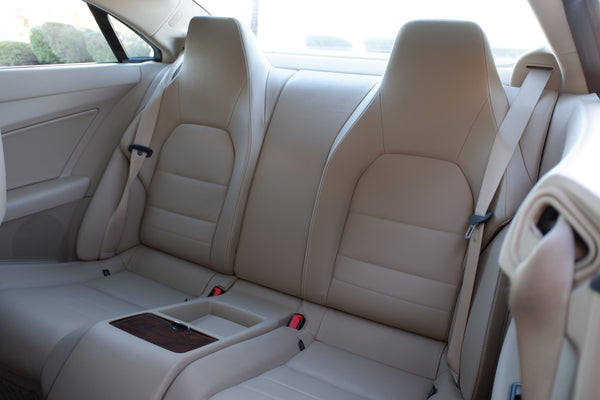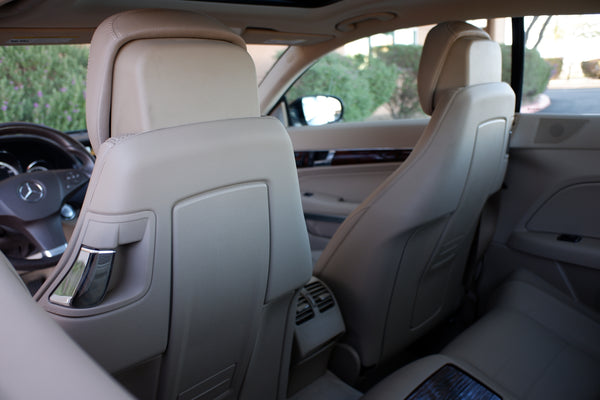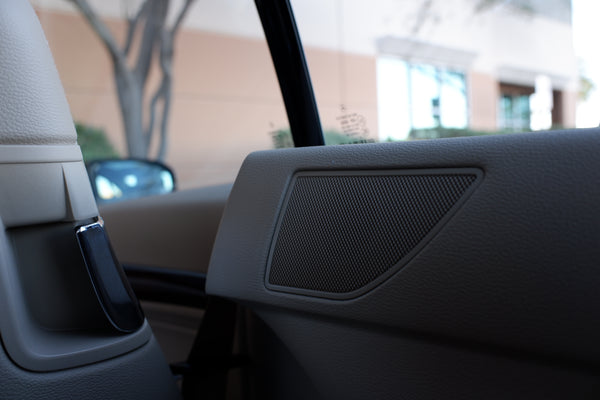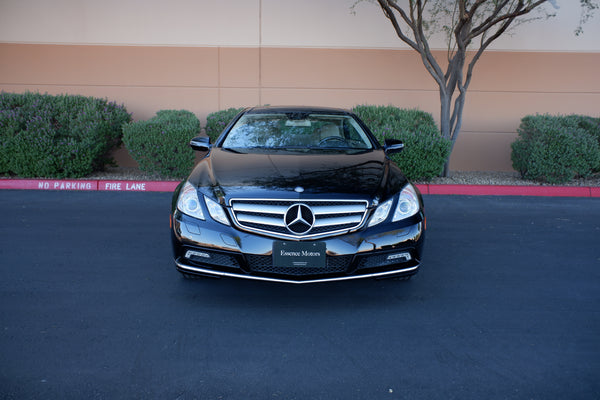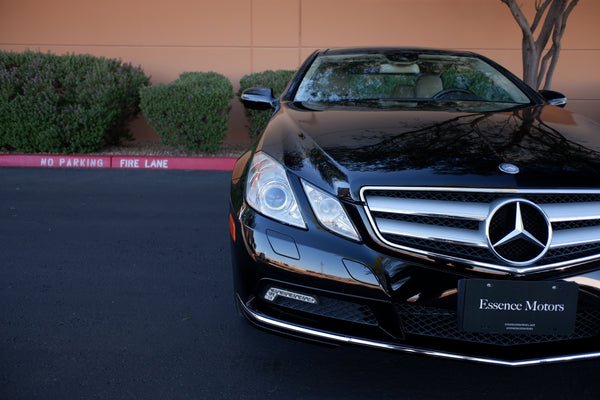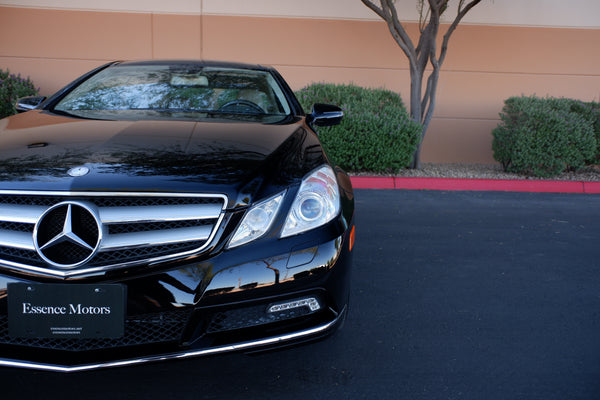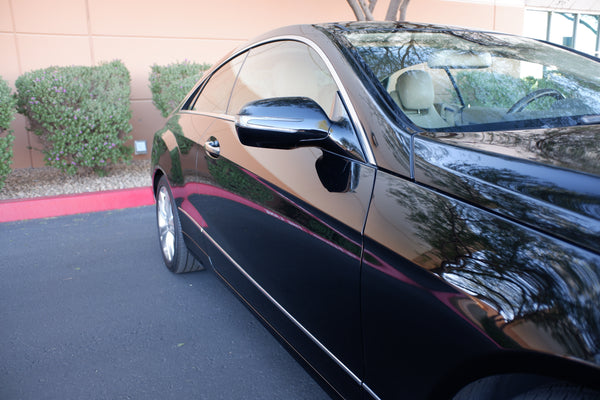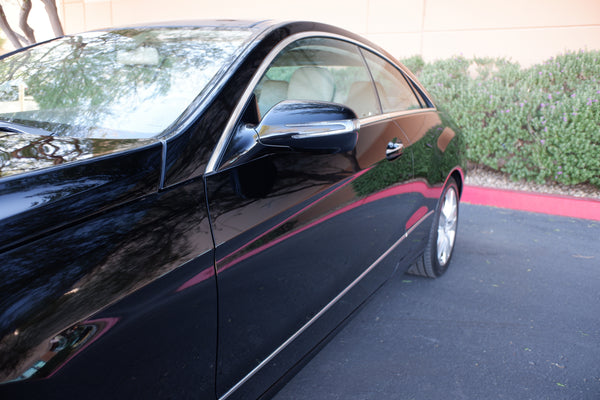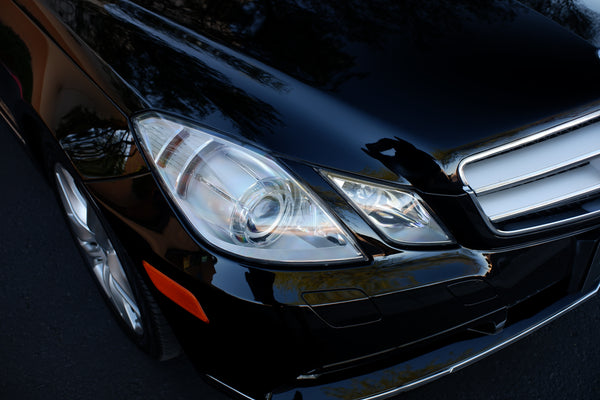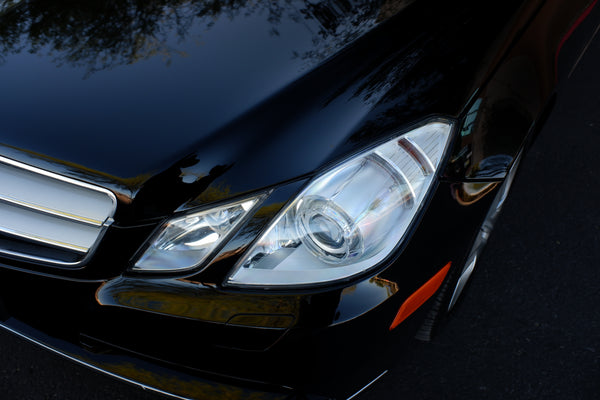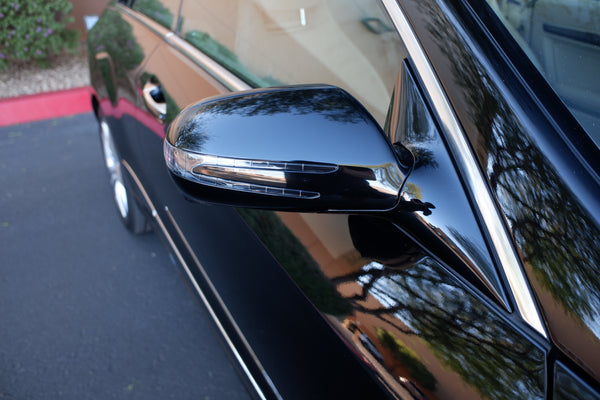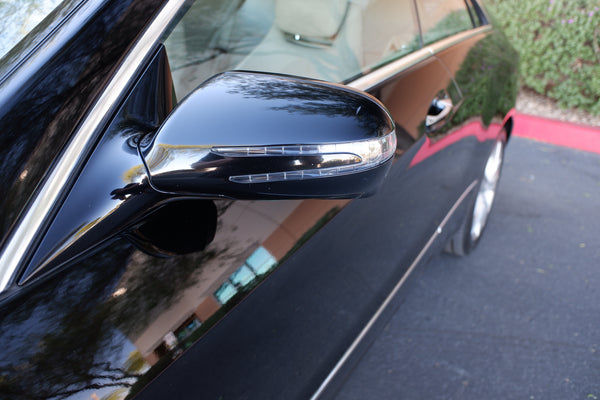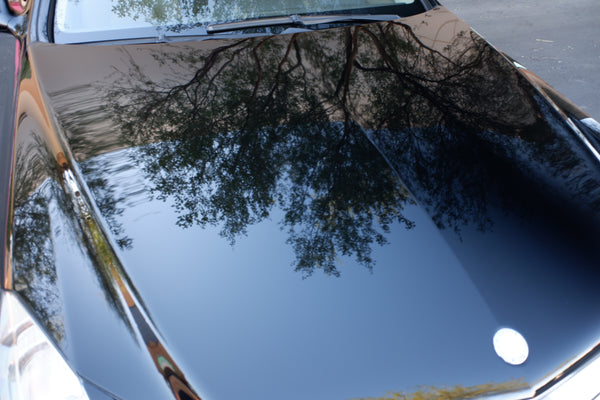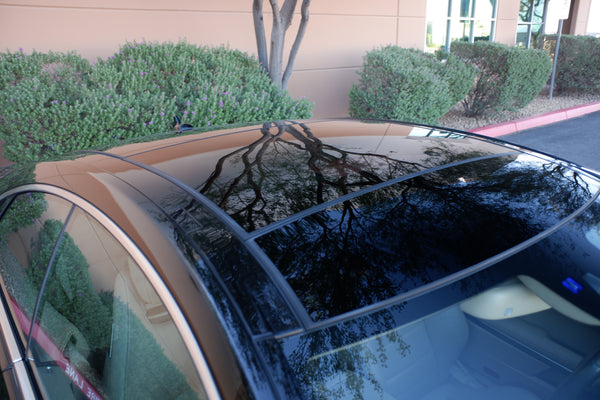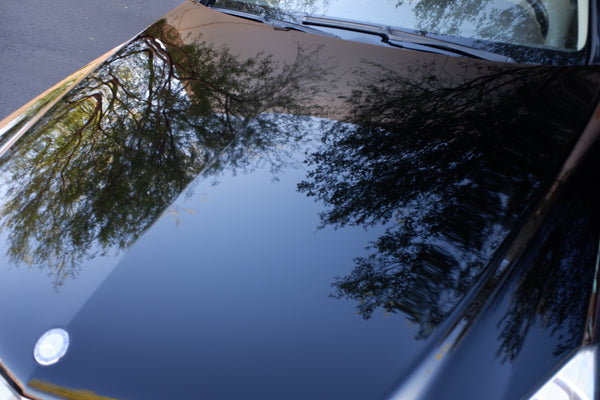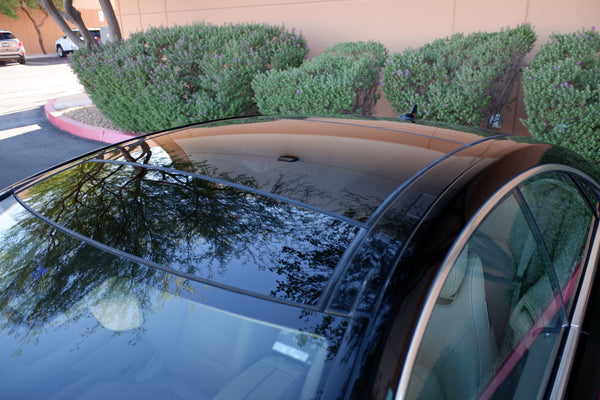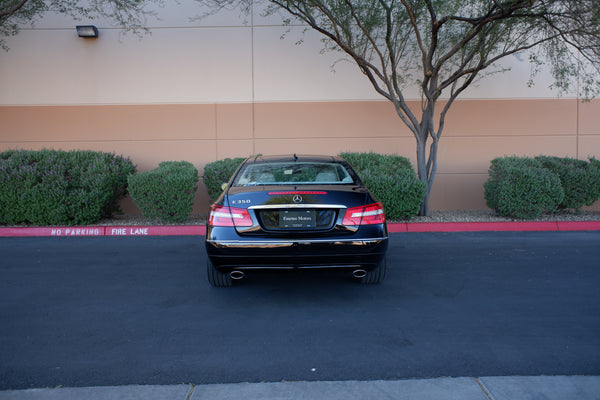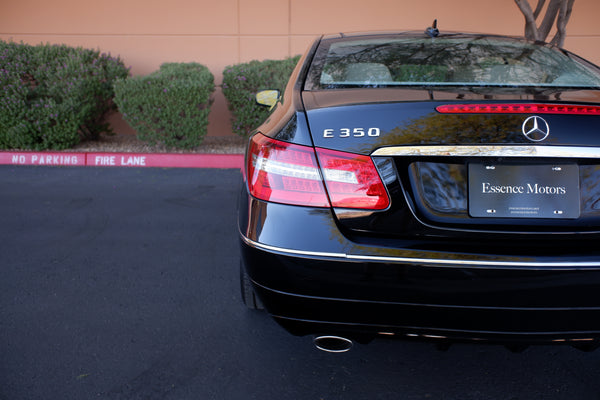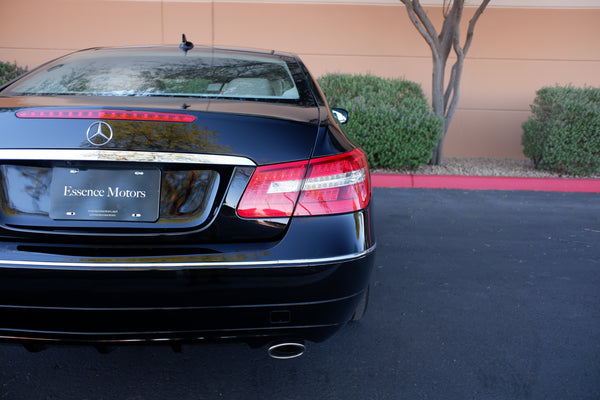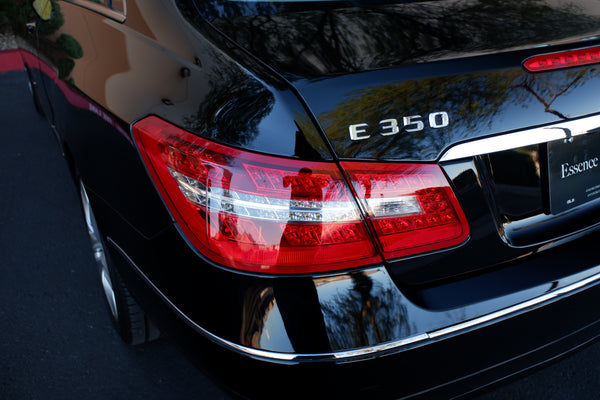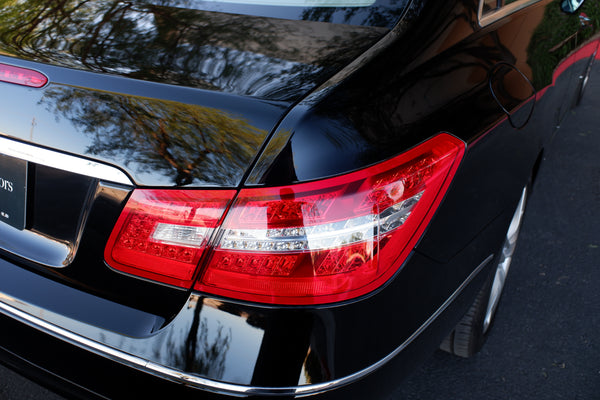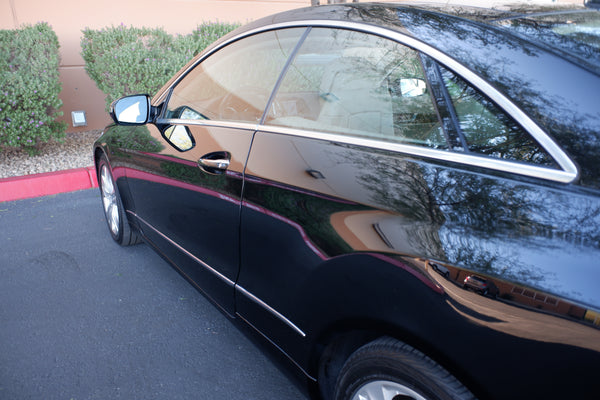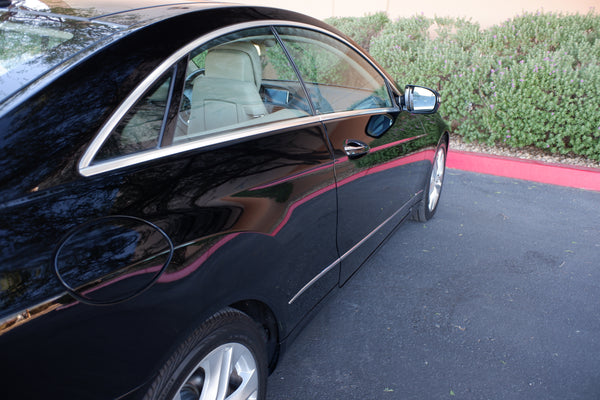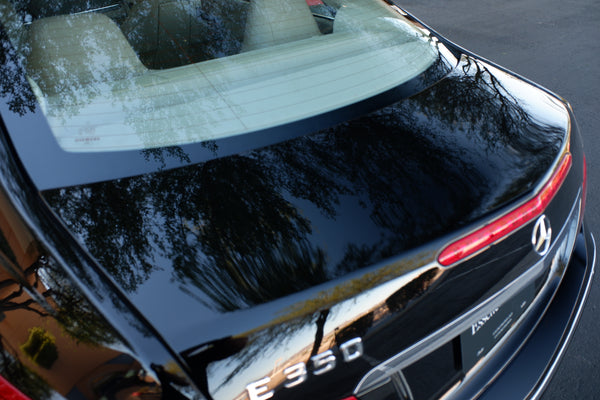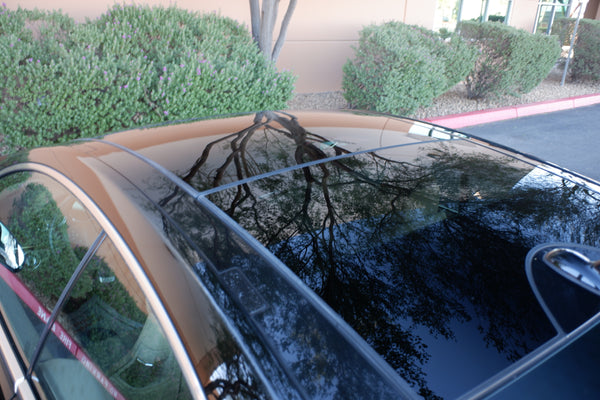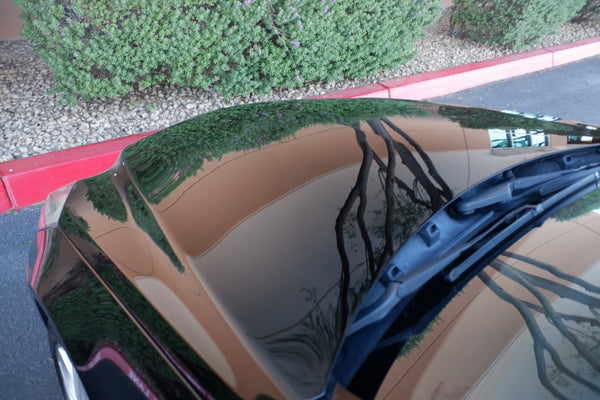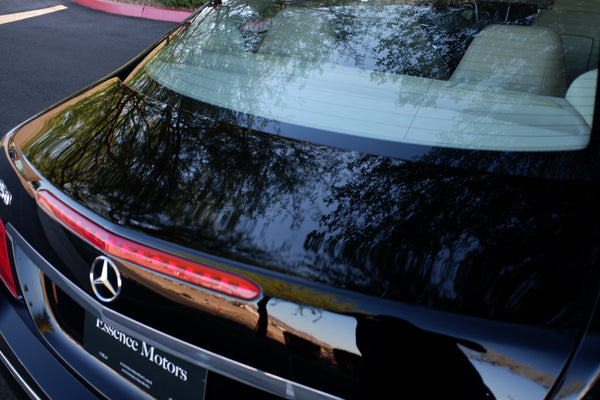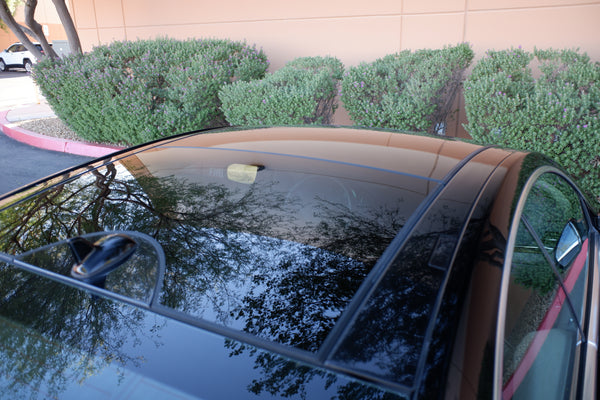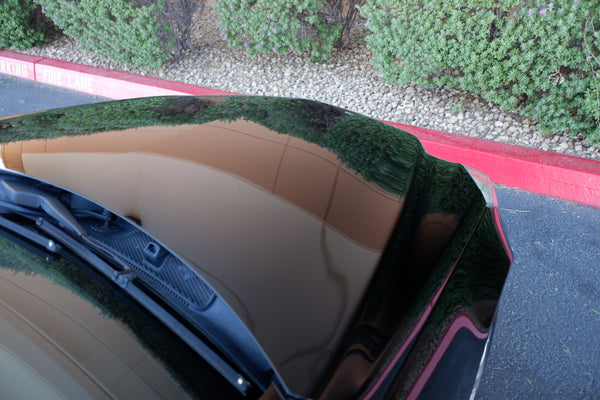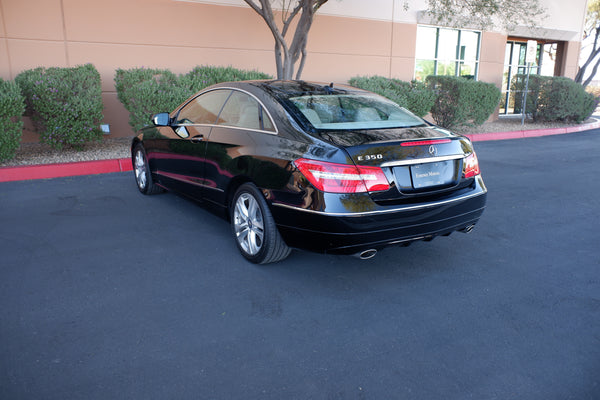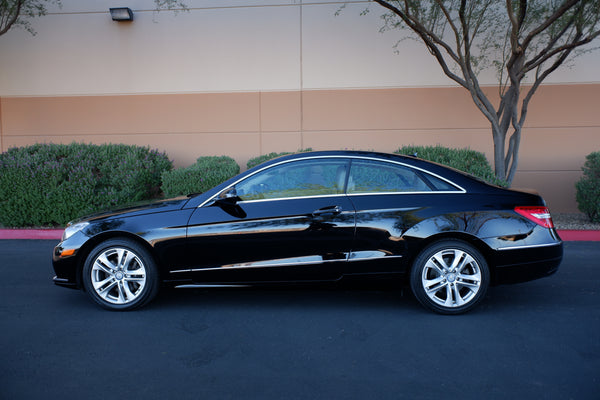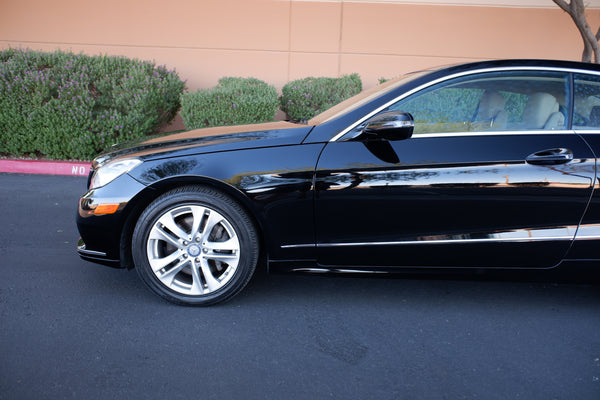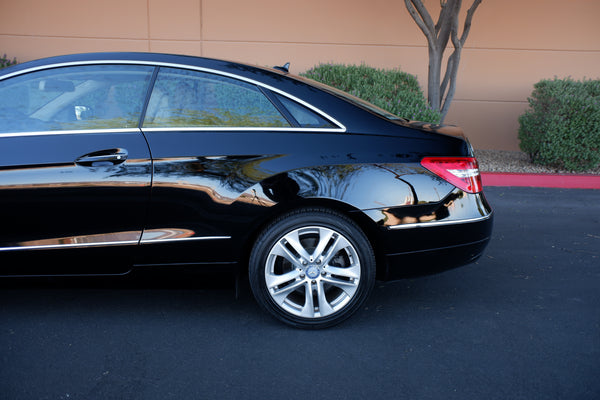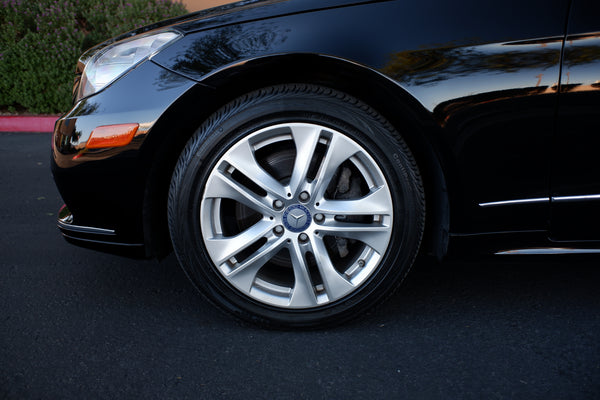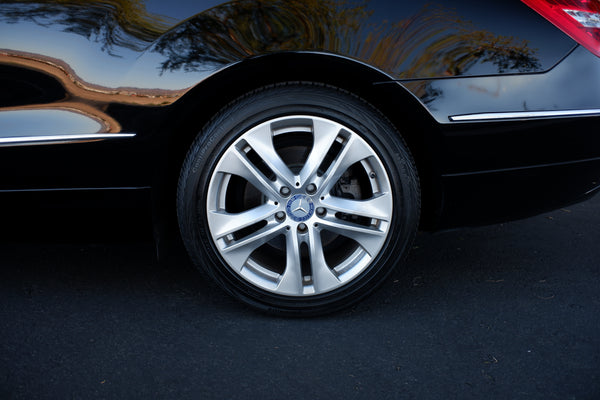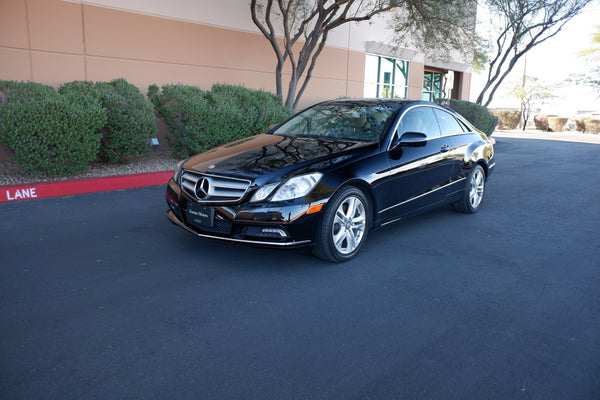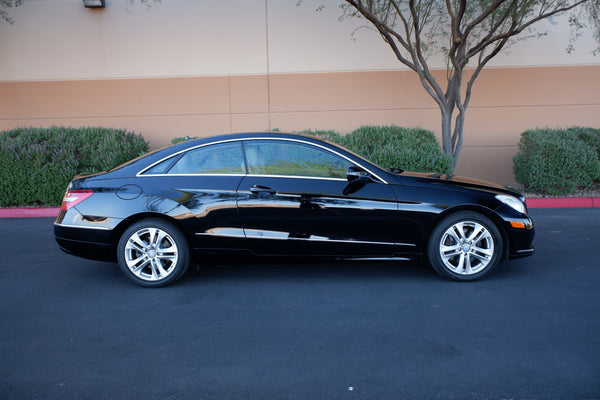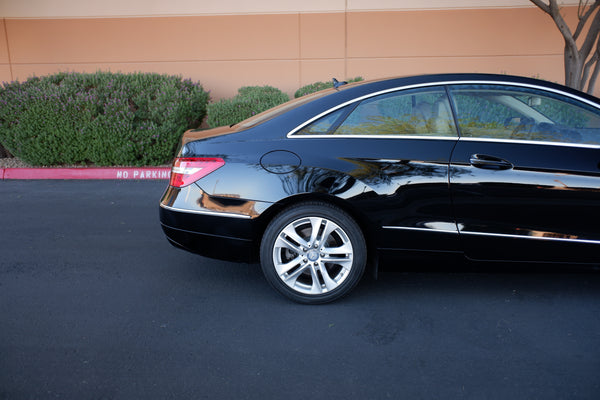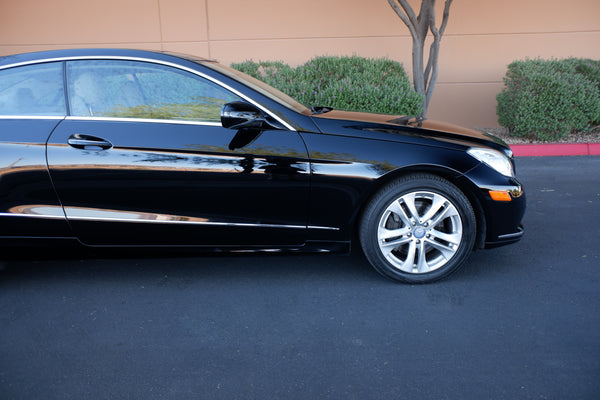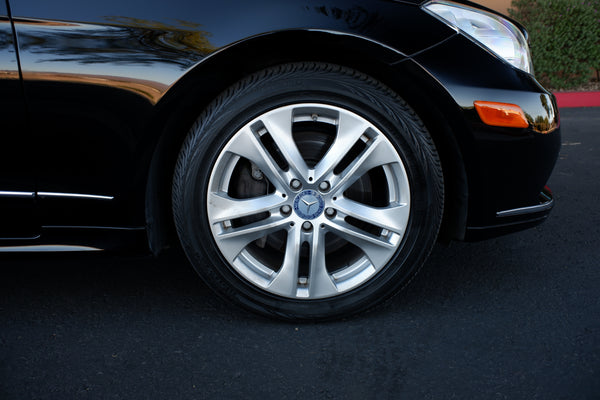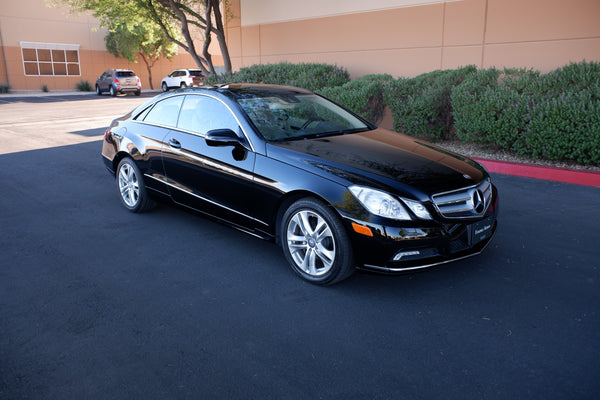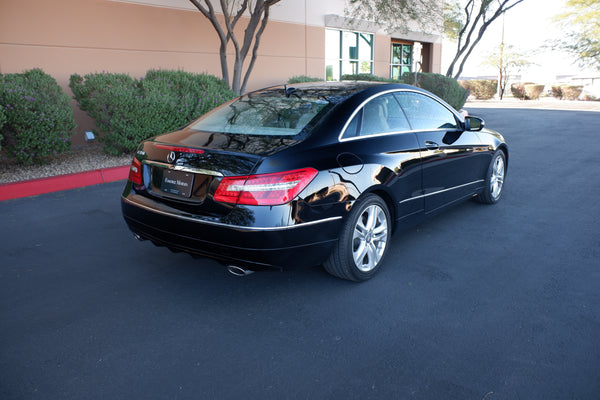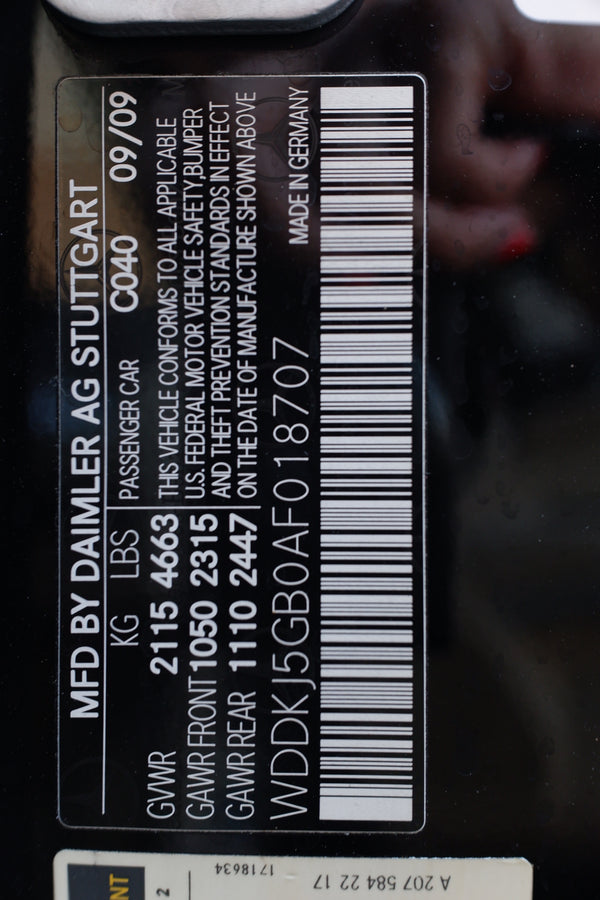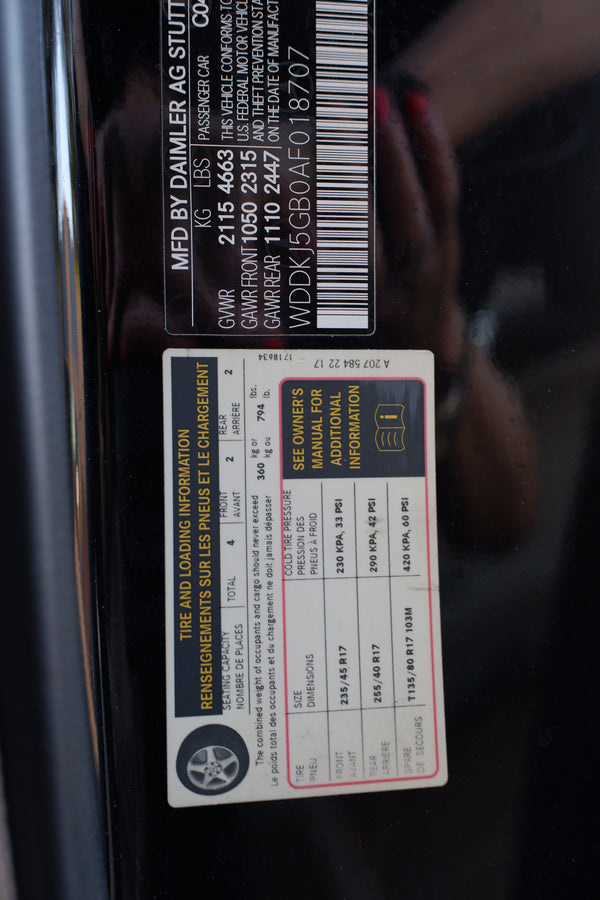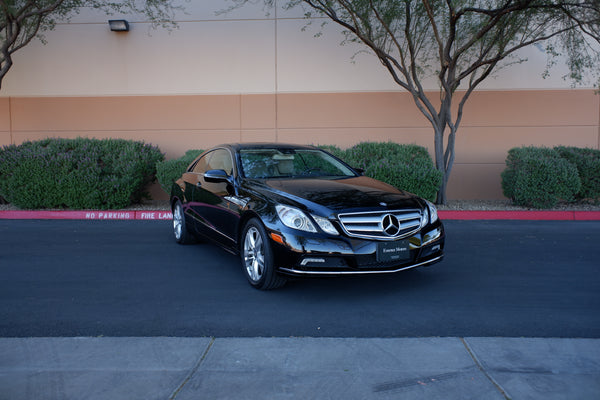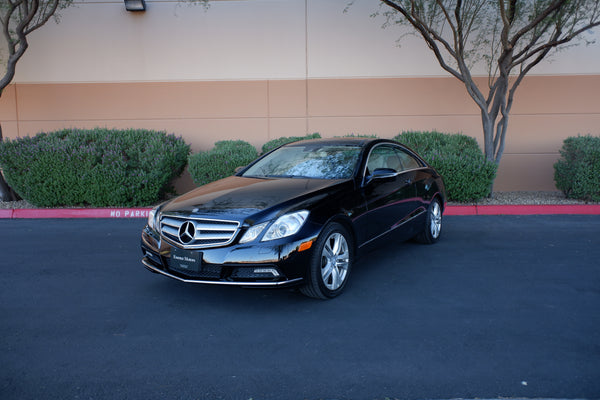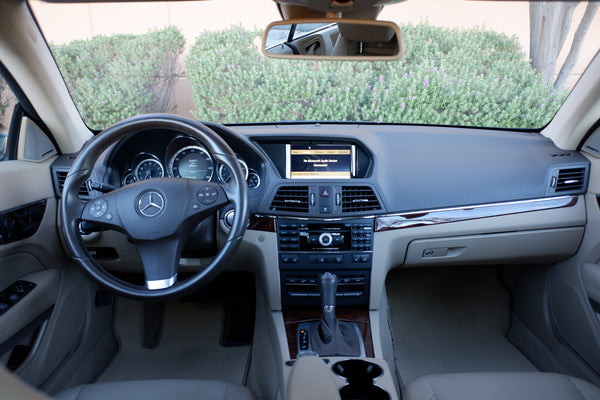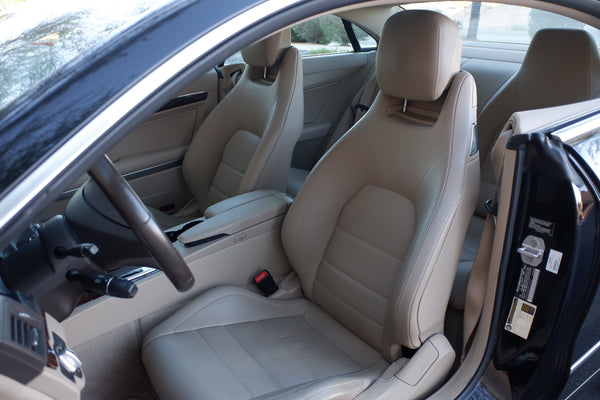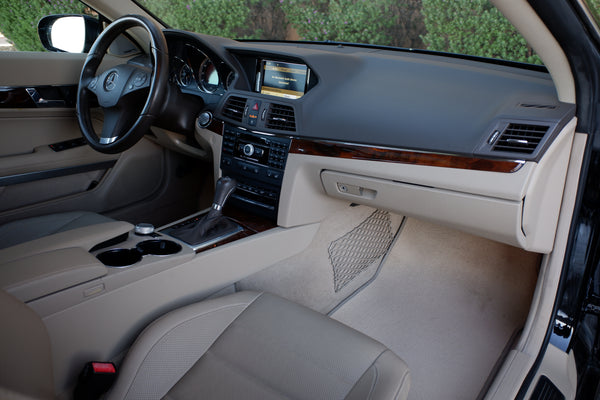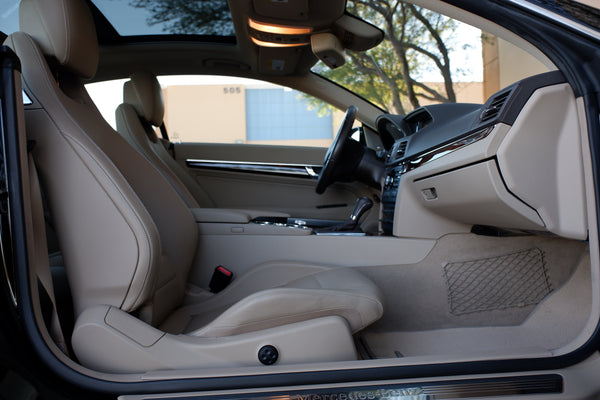 2010 Mercedes-Benz E350 Coupe
Make: Mercedes-Benz 
Model: E350 Coupe
Year: 2010
Type: C207 Chassis
Engine: 3.5L V6 (M272 Engine)
Transmission: 7-speed Automatic
Mileage: 50,000 Miles
VIN: WDDKJ5GB0AF018707
----
Color: Black (code: 040U)
Interior: Tan Leather Upholstery with Burl Wood Trim
Accessories: 2 (Two) Remote Key Fobs, Factory Literature 
----
This beautiful 2010 Mercedes-Benz E350 is finished in Black with a complimenting tan leather interior. This vehicle is a beautiful example, is well equipped and has spent all its life in dry climate California since new.

The clean Carfax history report shows no mileage discrepancy, no accidents or other damage in this Mercedes. Third party inspections are welcomed.
----

Equipment includes:

- Heated and Cooled Front Seats
- Rear View Camera
- Passive Entry & Keyless Go
- Power Operated Panoramic Glass Roof
- Bi-Xenon Headlights with Active Cornering Illumination "Curvelight system"
- Harman-Kardon Premium Sound System
- Power Operated Rear Sunshade
- Memory Package (seat, steering and mirrors)
- Cruise Control
amongst others. A full list of options is available at the end of this listing.
----
The C207 E-Class was unveiled in 2009 at the Geneva Motor Show. It replaced the Mercedes-Benz CLK-Class in the manufacturer's lineup. The C207 was produced between 2009 and 2017.

Power for this E350 comes from a 3.5-liter V6, rated at 268 horsepower and 258 lb-ft of torque. Output is sent to the rear wheels via a 7-speed automatic transmission.
----
We offer low shipping rates nationwide. Ask us about our financing options.
Call or text us at 702 969-1910 with any questions.
----

040U BLACK
182 CONVERTER WITH DEV. CHARACTERISTIC
1U2 SNOW GRID
200A LEATHER
205A LEATHER - BEIGE
212B OP. INSTRUCT. AND MAINT. BOOKLET-ENGL. FOR USA/CAN
218 REAR-VIEW CAMERA
232 GARAGE DOOR OPENER WITH 284 - 390 MHZ FREQUENCY
236 ADAPTIVE REAR INTERIOR LIGHT
242 ELECTRICALLY ADJUSTABLE RIGHT DRIVER SEAT W MEMORY
245 TRIP COMPUTER / COMPASS
249 INTERIOR AND EXTERIOR MIRROR,AUTOMATICALLY DIMMING
264 LICENSE PLATE ATTACHMENT AMERICA
275 MEMORY PACKAGE (DRIVER SEAT, STRG. COL., MIRROR)
284B AIRBAG LABEL - ENGLISH FOR USA
291 PELVIS AIRBAG (PELVISBAG)
301 ASHTRAY PACKAGE
309 CUP HOLDER
312B HEAD UNIT LANGUAGE - AMERICAN ENGLISH
342B INSTRUMENT CLUSTER/HU LANGUAGE - AMERICAN
401 FRONT SEAT CLIMATE CONTROL
413 PANORAMIC SLIDING SUNROOF/GLASS SUNROOF
427 AUTOMATIC TRANSMISSION 7-SPEED
43P CONTROL CODE MARKETING
461 INSTRUMENT WITH MILES IND. AND ENGLISH LEGEND
475 TIRE PRESSURE CONTROL
494 U.S. VERSION
512 COMAND APS WITH DVD CHANGER
518 UNIVERSAL COMMUNICATIONS INTERFACE (UCI)
536 SIRIUS SATELLITE RADIO COMPLETE SYSTEM
540 ROLLER BLIND, ELECTRIC, FOR REAR WINDOW
551 BASIC ANTITHEFT ALARM SYSTEM (ATA)
580 AIR CONDITIONER
600 HEADLAMPS - CLEANING EQUIPMENT
608 AUTOMATIC HIGH BEAM SWITCH (IHC)
615 BI-XENON HEADLICHT W.ACTVIE CURVELIGHT RIGHT-DRIVE
619 CORNERING ILLUMINATION
634 DELETION - FIRST AID KIT
636 DELETION - WARNING TRIANGLE
668 PRODUCT PROT. F FREIGHT PACKAG. W TIE-DOWN HOOKS
690 EMERGENCY SPARE TIRE (MINI SPARE)
705L UNITED STATES (USA)
731 TRIM PIECES - WOOD BURRED WALNUT VENEER
763 RADIO REMOTE CONTROL WITH PANIC SWITCH (315 MHZ)
7XXL NORTH AND SOUTH AMERICA
800 AEJ 09/1
810 PREMIUM SOUND SYSTEM
875 HEATED SCREEN WASH SYSTEM
887 SEPARATE TRUNK LID LOCKING
889 KEYLESS - GO
917 PZEV EMISSION USA
919 AIRCON COOLING POWER PACKAGE
986 DEVIATING VIN WITH MODEL YEAR
989 IDENTIFICATION LABEL UNDER WINDSHIELD
A22 NEW CONVERTER GENERATION
A35 SOFTWARE 1
A36 TORQUE CONVERTER HOUSING AGA
A41 SOFTWARE 2
A54 S - VALVE BODY ASSEMBLY WITH VGS 3*
B12 WHEEL REPLACEMENT TOOL
F207 MODEL SERIES 207
FC COUPE
G906 TRANSMISSION CODE VERSION 06
GA AUTOMATIC TRANSMISSION
HA REAR AXLE
K15 CONTROL CODE FOR SERVICE INTERVAL 15000 KM
K22 SOFTWARE CONTROL F. LOW BEAMS WITHOUT NIGHT DESIGN
L LEFT-HAND STEERING
M272 V6-GASOLINE ENGINE M272
M35 DISPLACEMENT 3.5 LITER
NA1 CONTROL CODE BREMEN PLANT
P35 LIGHT PACKAGE (FFO)
P64 FRONT MEMORY PACKAGE
R02 ALL SEASON TYRES
R95 17" LT ALLOY WHEEL 5 DOUBLE-SPOKE DES. MIXED TIRES
U10 FRONT PASSENGER SEAT WITH WEIGHT SENSING
U12 FLOOR MATS - VELOUR
U71 DVD PLAYER WITH REGIONAL CODE 1, USA
V57 SPEED + LOAD INDEX 94H
VL FRONT AXLE HALF, LEFT
VR FRONT AXLE HALF, RIGHT
040U BLACK
205A LEATHER - BEIGE
M272 V6-GASOLINE ENGINE M272